When it comes to romance, some of the European countries have got it spot on. When most of us think of romance, we think of something quite old-school – balmy evening walks, candlelight, a good bottle of wine. It's pretty safe to say that nowhere does all this (and more) any better than Italy. The country shaped like a boot has a long history of being associated with romance. After all, it has been the home ground of many public figures associated with love – everyone from Saint Valentine himself to Sophia Loren. Italy's culture also puts a strong emphasis on forging relationships and socializing, so you will find many a cute restaurant or hilltop walk to experience with your loved one. If a wedding is on the cards for you and your partner, here are some ways you can experience Italy before, during and after the big day.
Italian proposal
Whether you are proposing to your partner yourself, or if you suspect that they might be planning to propose to you, going on an Italian getaway certainly sets the scene – no matter who ends up popping the question. Venice is famously romantic, as its network of canals twists around the ancient city. You can navigate it by gondola – just remember not to jump around with joy after the proposal, otherwise you might end up getting a little too personal with the waters of Venice! Or, stay on foot and choose your moment on one of the quaint bridges overlooking the canal. If nature is more your thing, there are many stunning gardens open to the public in Italy, so consider popping the question there after sundown.
Italian wedding
Once you and your loved one are engaged, the number one thing you'll be thinking about is where to have your wedding. The venue is what will take up the bulk of your wedding budget, so getting it right is very important. The idea of a wedding abroad is very tempting for many people – after all, why not combine a wedding with a vacation?! The grand buildings and rolling hillsides of Italy can provide the perfect backdrop for your big day, as well as ensuring your guests are taken care of with true Italian hospitality. There are plenty of stunning Wedding Venues in Italy, so shop around and find the one that suits you best.
Italian honeymoon
Once the madness of the wedding is over, you will naturally want to spend some quality time with your new husband/wife. The honeymoon is a staple tradition of modern marriages, and Italy is one of the most popular destinations for it. If good weather is what you are looking for, look no further than Tuscany – this largely agricultural region features a stunning landscape bathed in a warm, sunny glow. Puglia is a great option for those who want to avoid the crowds, and the Amalfi coast has some stunning towns and beaches – just avoid in the peak summer months. Have you been dreaming about your wedding day since you were a girl? Did you make plans in the playground about how your wedding would be? A woman's wedding day is the best of her life. If all goes according to plan, it's something you'll only do once. It makes sense that you make the day as special as possible. If you can't feel like a star on your wedding day, when can you? Put plans in place that will ensure you feel as glamorous as possible on the big day.
YOUR WEDDING DRESS
Your wedding dress is quite possibly the most important dress you'll ever wear. It's crucial, then, that you get it right! You'll want to look as good as possible, so get the dress you always dreamt of. Dress fittings can be a lot of fun and can ensure you find the perfect one for you. Maybe you want to go all out and get a dress designed just for you. This is an excellent way to ensure you get the dress you want. It's also a sure way to ensure your dress is unique! Bear in mind that this is an expensive choice. You might want to take a look at the dresses already out there first!
MAKEUP AND HAIR
Of course, you'll want to get your makeup and hair right, too. As it's your special day, why not treat yourself to a makeup and hair stylist? Find one on a site like www.gigsalad.com. This option will ensure you don't have to worry. It'll also ensure you look as good as possible. Most stylists will help you work out a look beforehand, so you'll have plenty of time to plan! If you're worried about the extra expense, consider the fact that the stylist can work on your bridesmaids too.
ARRIVAL
You're the main event on this day, so you'll want to arrive in style! Take the time to decide how you would like to travel. There are many options, and which you pick is up to you. If you want to keep up with the theme of feeling like a star, hire a limo like those found at www.baltimoresedanlimo.com. You could go all out and hire a horse and cart for your special day. Whatever way you choose, ensure you make an entrance to remember.
WALK DOWN THE RED CARPET… AISLE
All eyes will be on you as you walk down the aisle. It's the first time everyone will see the look you've spent so long perfecting. Make the most of the moment by planning exactly how it will be. Many of your wedding photos will be taken of that walk. It may be worth practicing the moment beforehand. Wear your wedding shoes as you do so you get used to them. Take care choosing which music you would like playing as well. You could stick with tradition or go for something modern that reflects you and your partner. Most importantly, remember to enjoy every second!
The wrong or the right color can make or break your look. But if you put aside what's trendy and your personal preferences, the right color or shade has the ability to make you dazzle. Figuring out what color suits you the most starts with your skin tone, the three categories of which are warm, cool, and neutral. You're warm if your hair color ranges from dark brown to dark blonde hair and your skin has a yellowish undertone. You're cool if you have very dark to light blonde hair and bluish undertone skin. Your category is neutral if your hair is a combination of blonde with ashy streaks or brown with warmer tones while your skin tone is something that's hard to determine.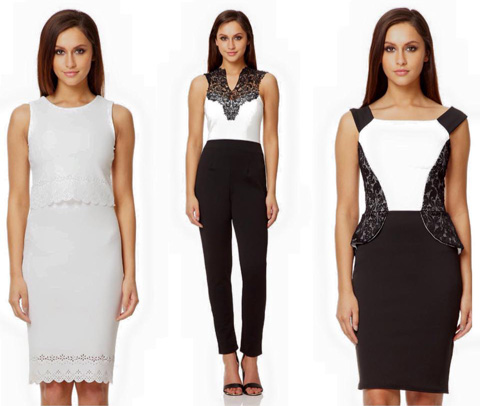 Shop for the right colored clothes that's best for your skin tone at Quiz, a dynamic fashion retail group that sells high quality, stylish, and trendy pieces at low prices. Founded in 1993, they also sell tops, jackets and coats, jeans, knitwear, trousers, jumpsuts etc., as well as shoes and accessories. Quiz prides itself for developing a responsive organization that makes its customers their utmost priority. Their highly knowledgeable and dedicated staff has enabled them to grow into an international retailer with over 250 stores and concessions. Aside from worldwide shipping, Quiz has free delivery on UK orders over £60 and free international delivery on orders over £25.
An important part of planning your wedding is deciding on the type of honeymoon that you want to go on. Most couples opt to spend a week or two sunning themselves on an exotic beach somewhere. However, if going down the traditional honeymoon route doesn't appeal to you, why not think about doing something a little more unique? Below we've picked out four unique honeymoon ideas that are perfect if you and your partner have a sense of adventure and fancy going on a honeymoon with a difference.
Head to a yoga retreat
One option for a honeymoon with a difference is choosing to head to a yoga retreat. If you and your partner have always wanted to give yoga a try or are already skilled at it, then perhaps heading for a relaxing and tranquil yoga retreat could be the perfect way to bond after your wedding?
A beach break could be fun, but surely it would be just like any other vacation? So why not do something a little different and go to a yoga retreat for a week or two? Imagine how relaxed and rested you would feel when you returned home. There are also sorts of places that offer yoga retreats, from the South of France to Bali, there are various locations to choose from.
Volunteer abroad
Another option for making your honeymoon unique is to volunteer abroad. If you and your partner have never doing anything like it before, then perhaps volunteering could be the ideal way to spend your honeymoon. Pick a country to volunteer in that you've always wanted to visit and research the projects that are on offer.
Say, for instance; you've always dreamed of visiting Costa Rica, then choosing to volunteer in Costa Rica could be the perfect option. You would get to spend some time in this incredible country exploring it, as well as helping an organization in need of volunteers. It may not be the most relaxing honeymoon, but it would definitely be enriching. Plus, you get to immerse yourself in the local culture and learn about the country and its people.
Charter a boat
What's more romantic than spending your honeymoon sailing across the sea? As long as neither you or your partner get sea sick, chartering a boat could be the perfect way to spend your honeymoon. All you need to do is find a boat that you can charter and choose a destination that you would like to explore.
Chartering a boat could be like having your own private cruise. Think champagne, a romantic cabin, chef-cooked meals, and the chances to see lots of different places. What more could you want? In terms of the destination, pick somewhere that has plenty of beautiful things to see, Fiji could be a good option, as could the Balearic Islands or the Canary Islands.
Want a honeymoon with a difference? Then take on board the ideas and suggestions above, and you can plan the most incredible trip that you and your partner will never forget.
Adelaide Brilliant V-Neck Floor-Length Lace BacklessWedding Dress With Appliques – AUD $ 285.23
As we turnt the new leaf, I know most of you wonder on what's gonna lead in the fashion industry especially in the wedding part because a lot of women are keep on checking it as the rate of engage couple are pretty high as for this year 2017. No doubt why mostly wedding gowns designers are getting a bunch of work recently and they have mostly the abundance due to the high volume of works they did have for the rest of the year. Good to them!
The the thing is, what are these trendy wedding gowns that a bride and wife to be to follow? actually, there're a bunch out there but the dominant that I'd always sees were these Backless and Laces type of wedding dresses. To learn more about this I suggest you then to have try checking this information over google and try to find some wedding magazine online who always in update on what's new and not for the wedding. In this way, you wont be outdated on the latest designs and newly made kind of wedding dresses, but like what Ive said – more or less it's backless and laces time this year, 2017.
For you to check all the available wedding gowns today, I encourage you to check this online shop called Amodabridal which I truly recommend you as the shop is pretty into trendy stuff and they only sells the quality and latest designs for their wedding gowns. You can check this link: http://www.amodabridal.com.au/lace-wedding-dresses-c113876/ for the list of newest wedding gowns that you might consider and please dont worry that much for the price as the shop is pretty considerable about it by giving out some discounts for some selected items and even you can contact them for additional discounts if you are buying off in bulk order. Yes! that's how considerate this shop hence I really like them other than to same stores online.
Have you seen any cosplay before? you might thought that this act is senseless but to the cosplayers these kind of play are truly a self lifting deeds. Hence , they keep on doing it not just to show to other on how they fanatic they are to the figure they cosplaying but also they are showing their passion and sense of responsibility to make themselves what they are. In away, cosplaying is a cure for one person's self and show through this deed on how they really feels. I also commend those cosplayers out there who partly exerting effort just to mimic their figure and have them in reality which quite amazing to see..
Wavy 28 Inches Capless 120% Synthetic Hair – USD $ 36.99
As I talk about the cosplay, of course people needs a materials to make this happened and one of the best and a must need item was this cosplay wigs that you could only find here: https://www.cocowig.com/cosplay-wigs-c120843/ because this shop sells a lot of wigs that can help you out to achieved the look you trying to pull off thus a lot of players are getting to this shop just to get their desire of wigs they wanted.
The shop, www.cocowig.com, also sells a lot of differ wigs that your fashionable friends will truly enjoy. Try to check their long length black wigs that can be wear off in any formal events or in any important occasions that you need to doll-up and look more elegant. Jsut look around the shop I've mentioned and you'll see a bunch of styled hair wigs that you might needed soon or you could just get some for your friends this holiday season, perhaps? Yes! these wigs are a perfect gift ideas too, to your friends who loves to cosplay or just doll-up themselves quite sometimes.
I rarely blog u something personal here. Because as much as possible I really wanted here to be in theme and informative but right now am in need of your help to find this rare finds here called bam cases. Actually, I need it to my music class as the prof required us all to have it the next week class. Hence, what should I do as I dont know where to buy it off. Please help!
Weddings are a big deal. They involve a lot of our loved ones and a lot of effort from outside services like caterers and entertainers. It can be so easy to get so caught up in all the planning and the day that we forget to show how grateful we are. But this is important because it's not just you that has worked your butt off for you big day, but all of those around you too. So, check out the tips below for ways you can show your appreciation to everyone that was involved.
Your Partner
One person that you shouldn't forget to thank after the wedding is your partner. An attitude of gratitude is a great way to start off your married life. It's nice for the other person to feel secure in the relationship and that you will not be taking them for granted now you have tied the knot. A meaningful gift, card or romantic date can work well as a token of your love and set the tone for your first married year.
Your Mom
Most girls rely heavily on mom during the planning for the wedding. In fact, a lot of parents also help out with the organization and cost of the day too. That is why is vital that you show your appreciation of them.
It can also be a bittersweet time for parents as they feel happy that their kids have found the love of their life. But they also realize that they might not be in their own lives quite as much.
Traditional gifts for moms as thank yous are a huge bunch of flowers. But you can also be original and consider something more lasting like a jewelry box or a personalized necklace to remember the day by.
Your Bridesmaids
If you have a good team of bridesmaids around you, they can help you when things get a bit stressful. They will probably also have arranged a great hen night for you too. So you will want to say thank you in some way.
A nice way to do this is to get each one a gift. Jewelry items like charms for European charm bracelets are a popular selection. As are earrings or a bracelet that they can wear on the day of the wedding, to set off their bridesmaids gowns.
Your Guests
Showing gratitude to all of your guests is quite a frequent thing through the wedding. Many people include wedding favors as place settings, so each guest receives a small gift from the bride and groom as they sit down to eat.
In addition, the guests are often thanked for their attendance during the wedding speeches. It is good form to send out thank you cards after the event too.
Your Vendors
Vendors have a huge role to play in getting your wedding right. But they can be forgotten after the big day.
Instead, pop them a thank you note if they did a good job. You can even include testimonial that they can use on their website, which I'm sure will be welcomed by any small business.
Every women deserved to be called beautiful because god made them as beautiful creation with love and affection hence they should treat fair and gem. But of course we inevitable for some occasions girls might not look that good as they aren't prioritized to be doll-up or sorts as they needed to get some work done perhaps on that particular events or occasions which understandable, right? But you know what? there's an hack for that which is having an elegant and sexy kind of dress especially if you are attending wedding or for your own wedding. Yes! being sexy or having this elegant looking dresses can brings the inner beauty to come out and it goes down on your body language and feels. To know this better, you can further search over google on how to feel beautiful and confident by wearing the best finds you have – there's a bunch of writes about it hence you could learn a lot to it.
Elegant Embroidery Scoop Floor-Length Zipper-Up Sleeveless Wedding Dress – AUD $ 236.67
Going on.. as for your elegant wedding dresses? you can have them here : http://www.amodabridal.com.au as the shop offers a lot that am sure you amazed to have. They did have this see-trough kind of dresses, A- line, and even the unbeatable mermaid inspired gowns they have it all. And for those plus size, dont loose hope please as the shop cater to you all with their plus size wedding dresses Australia that are listed on their plus size section at the upper navigation, just check it through and you can see a bunch of selections to choose from with..
i personally buying off my gowns to them and even today I really suggest them to my friends as I really pleased with the quality of gowns they're selling but of course in reasonable prices that all of us can afford to have..
I used to think that wigs are used in disguises just like in play acting/movies or by entertainers. But later, I understand that these wigs also played an important part and are used by normal, everyday people with hair loss or scalp problems. Serious cases of hair thinning or premature hair loss can be very depressing even for men. It will be more difficult to accept especially for the younger men.
Don't think that men are indifferent to their looks. Men too want to look young and good looking whatever their age. They may not openly reveal their vanity like women but every man just like women also wants to look young and good looking!
Some cases of hair thinning or scalp problems can be easily arrested by medication or can be rectified by some kind of treatment done in the clinics or in hospitals by medical professionals. For others with more serious problems or those who have waited too long to seek treatment or medication, they found to their dismay that their problems could not be reversed.  This is when hair replacement for men like wigs or toupees come in useful for these people to serve the purpose of covering up the bald patches or thinning hair.
Patients undergoing chemotherapy treatment e.g. cancer patients, etc. also resort to temporary hair replacement systems to cover their temporary hair loss until their natural hair grows back after they have completed their treatment. These non-surgical replacement hair systems are suitable for those who only need to use them temporary and for short period of time. Those with thinning hair due to aging also resort to these replacement hair systems to make up for the lack of hair or fullness of hair body. These are also suitable for those who are not able to go for surgical replacement hair systems for some reasons or choose not to do so.