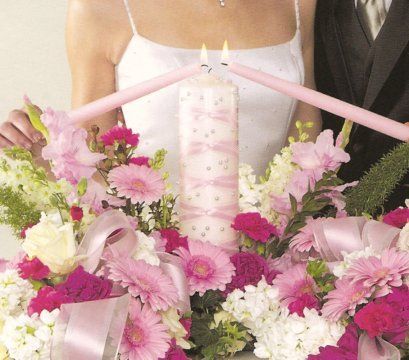 Wedding candles are indeed an integral part of modern wedding decorations. However, it would be absolutely inappropriate to associate them strictly to decorations. They are not mere adornments. Their significance transcends those limitations. The wedding unity candles, for instance, exemplify the much coveted unison between the bride and the groom. Yes, it is true! The wedding unity candle arrangements actually go on to represent the couples in the ceremony. Want to find out more? Let us browse further!
Wedding unity candles: A closer look at their significance during a wedding
These candles are primarily used to symbolize the unison between the bride and the groom as well as that of their families. Representing the bride and the groom, these candles are positioned just beside a large table candle on a tiny table on an altar. Special care is taken to ensure that these candles can be easily reached by the couple. If anyone from the family chooses to, he or she can light side candles during the ceremony. The ceremony officiate is in charge of acquainting everyone (present at the ceremony) with the significance of these candle after which the bride and the groom will go on to light the candles — the flames thus signifying their unison. The taper side-candles might as well be left to burn or extinguished after the lighting ritual is complete.
If both the bride and groom have children of their own they can actually participate with their own candles at the ceremony as well.
Personalized unity candles for you!
Wedding candles very successfully typifies the much revered romantic element of a wedding. A great idea would be to settle for personalized wedding unity candle design instead of picking up the run of the mill items. It doesn't really matter whether you are conducting an outdoor wedding or an indoor one—an evening, night or a day wedding. The wedding candles would infallibly turn out to be a rewarding addition to the entire ambience.
Tips to buy custom candles
Let us inform you that there is no dearth of hand-crafted wedding unity candle providers out there. However, you have to sagacious with your choice in this regard. There is no room for random selection here. Make sure you are resorting to a thorough research on the credentials of the candle-makers before selecting one of them.
How diverse is their catalogue (check out their website thoroughly)?
Are they committed to offering your personalized candles as per your specifications?
Are they ready to offer you items at market competitive prices?
It would be great if you are actually taking the trouble to go through the website of the candle makers thoroughly. They might as well have a diverse collection of charming candle sets for clients. However, their versatility can only be rightly judged when their catalogues are compared with that of others. Make sure you are not sticking to one but exploring multiple websites in a bid to zero in on preferable choices. Look up the internet for creative wedding unity candle ideas.