Beauty comes in all shapes. In order to look beautiful in everything we wear, every time, we have to learn the basic guidelines of body shapes. Our body shape is simply the proportions of our body fat and muscles. All women have different body shapes or body frames which makes us unique. Your body type is not just determined by the height and weight, but also the overall "shape". Thanks to all those fashion experts, now we have a narrowed down eight general shape categories such as: straight, pear, hourglass, apple and wedge. So let's break down to the basics to get a better understanding on how to dress our figures to look best.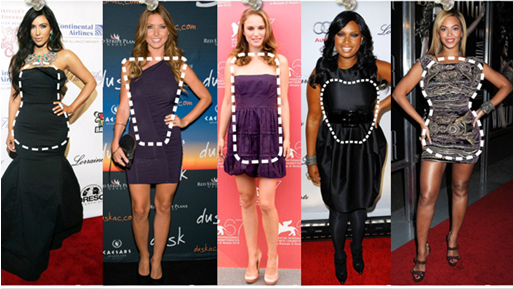 Straight; one can be categorized as a straight or a rectangle figure when the bust, hips and waist are basically the same size. This body shape is common among athletes. The key in styling a rectangular body is by creating the illusion of curves and definition especially on the waist area. On the plus side, these women are blessed with slender legs and arms which you can definitely show off. Look out for sweetheart and cowl necklines, gathered waists, shirts that fit perfectly at the waist, tailor fitting structured blazers with a peplum, and tops with ruffles collars and details at the bust. When selecting swimsuits opt for tankinis with gathers or ruffles at the bust and waist, bold patterns, light colors, skirted bottoms with moderate cover, and waist detailed one pieces. Remember to choose jeans with wide waist band which will snug at the waist and flap and embellished pockets. Flared leg trousers, balloon and flair skirts, colorful printed bottoms are your style must haves.
Pear; it is the most common body shape where you have wider lower body/ hips and comparatively narrow upper body/shoulders. Pear shapes need added upper body volume and less emphasized lower body styles. Remember to show off your defined waistline when selecting clothes. Look for clothes that takes your eye toward the bust area and away from the hips. Cargo pants, bold printed shorts or skirts, light color pants are things you want to stay away from. Instead try a line and straight line silhouettes which can camouflage the bottom torso. When out for a swim, try a scoop let cut bottom and a light hue padded top piece. Flutter sleeves, stretched shoulders, wrap tops and dresses, off shoulders, boat necks will look great on tour body.
Hourglass; if you own an hourglass figure, you know what pop diva Beyoncé and you have in common. Hourglass figures have well balanced upper and lower bodies with a small waistline. Go for wrap dresses, body hugging cuts, belted tops, tailored jackets when shopping for clothes. Buy clothes made out of light materials and good flow. Lucky for you, you can wear almost any type of bottom styles, from high waist skirts, skinny jeans, and tube skirts to mini shorts. So be sure to experiment. Remember to avoid too clinging or too loose clothing which will put your proportions out of balance.

Apple; These figure frame women carry most of their weight above the hips, with broader shoulders. Remember to elongate your upper body while defining the waist. Golden rule is to draw the attention away from the midsection and toward the bottom torso. Show off your beautiful legs to achieve a leaner look. Monochromatic colors will help you to balance out your frame. Invest on a good quality perfectly fitting bra. V necks, vertical stripes, empire tops, are few key pieces you need in your wardrobe. You can definitely pull off bold statement skirts, flared jeans, detailed shorts, maxi skirts to achieve sexy and flattering look.
Wedge; aka inverted triangle body type is where you carry a wider upper body and a gradually narrowing lower torso. It is important to add volume to your lower body while keeping the upper body and shoulders slender and simple. Look for bright color bottoms, full flair pants, boohoo maxi skirts, and try out peplum and high waist skirts which will cringe your waist line even more. Narrow v necks, dark colored tops, vertical prints, soft tailored jackets will work great with your body frame. When vising the beach get yourself a hauler strap solid color top with a side tie bottoms or a trendy one piece with side cut outs at the waist.