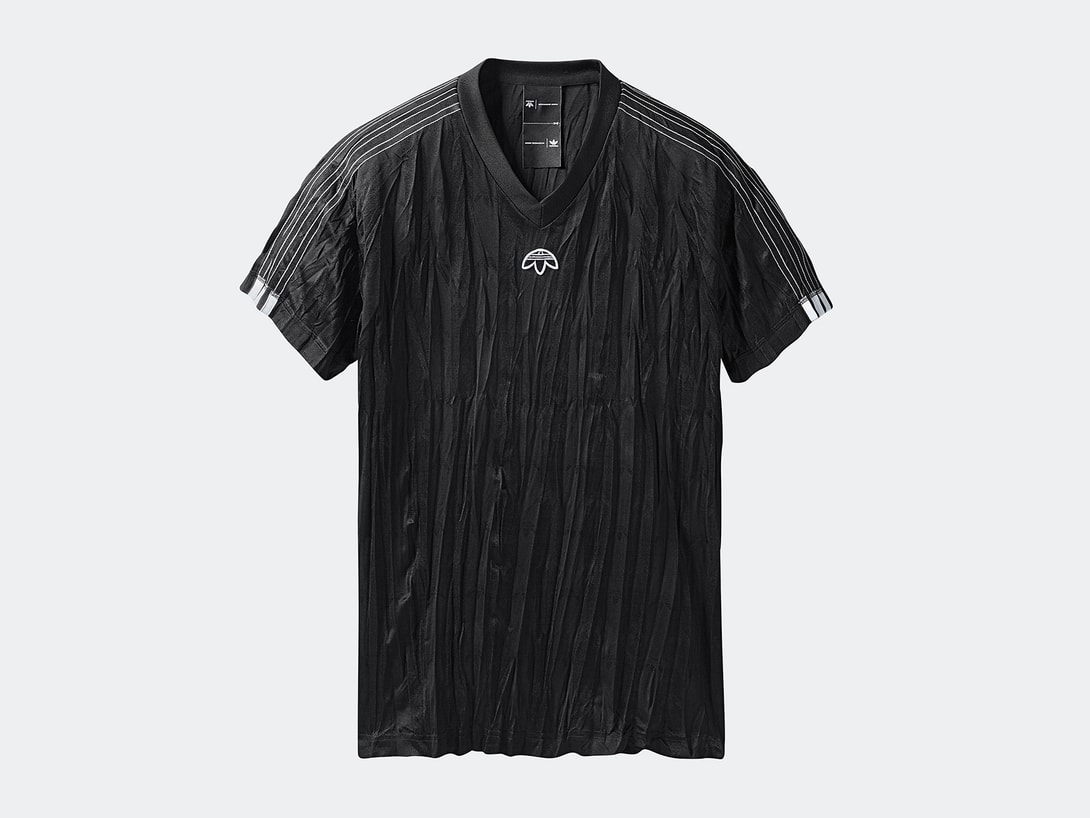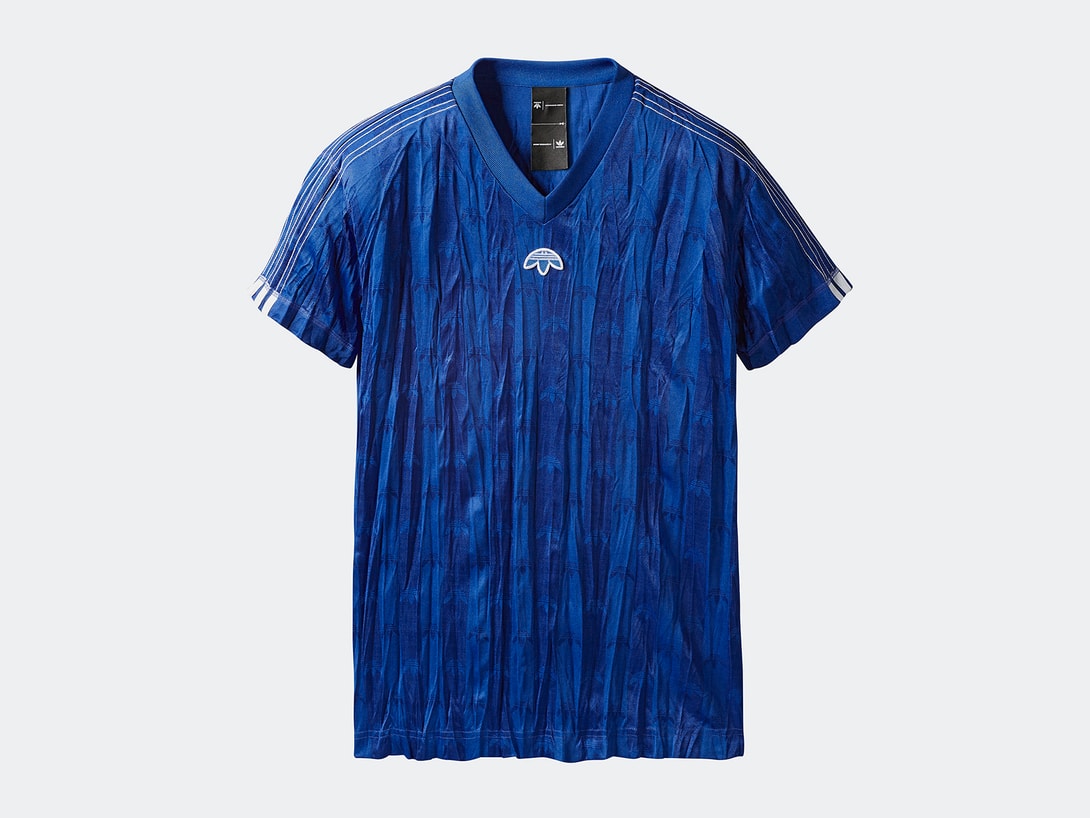 Want some quirky finds? if so,why not checking this new collaborative collections of Alexander wang for Adidas?. To be honest, I am not fond of wearing crinkle clothes it seems, on my end, that I was too messy whenever I , accidentally, wore any of this kind. Hence, I don't get the idea why Alexander made it looks so crinkle for these finds which is not my style at all. But of course, this was only my own opinion, might others like their clothes crinkled much or suits this kind of style well to them. But on me, I will definitely know that these new collaborative finds from the Adidas x Alexander wang collection for ss18 isn't really for me at all. But still though, I included their collection here as a respect on the big names in the industry, fashion.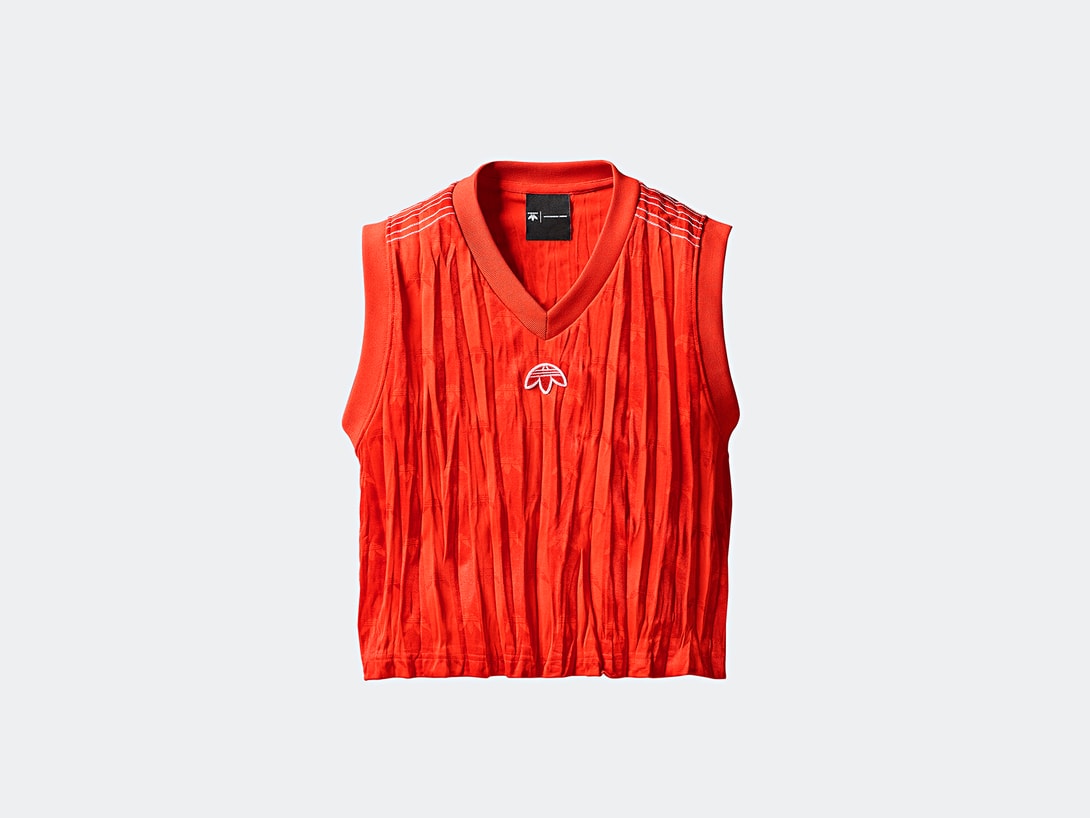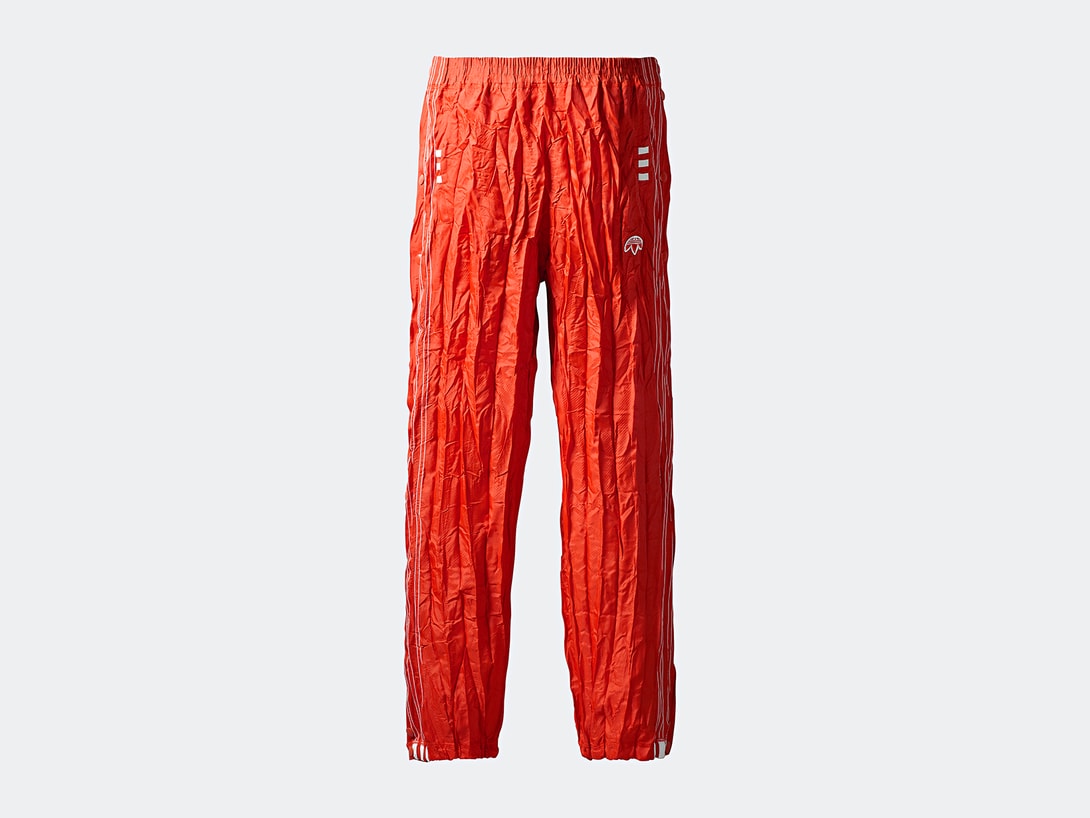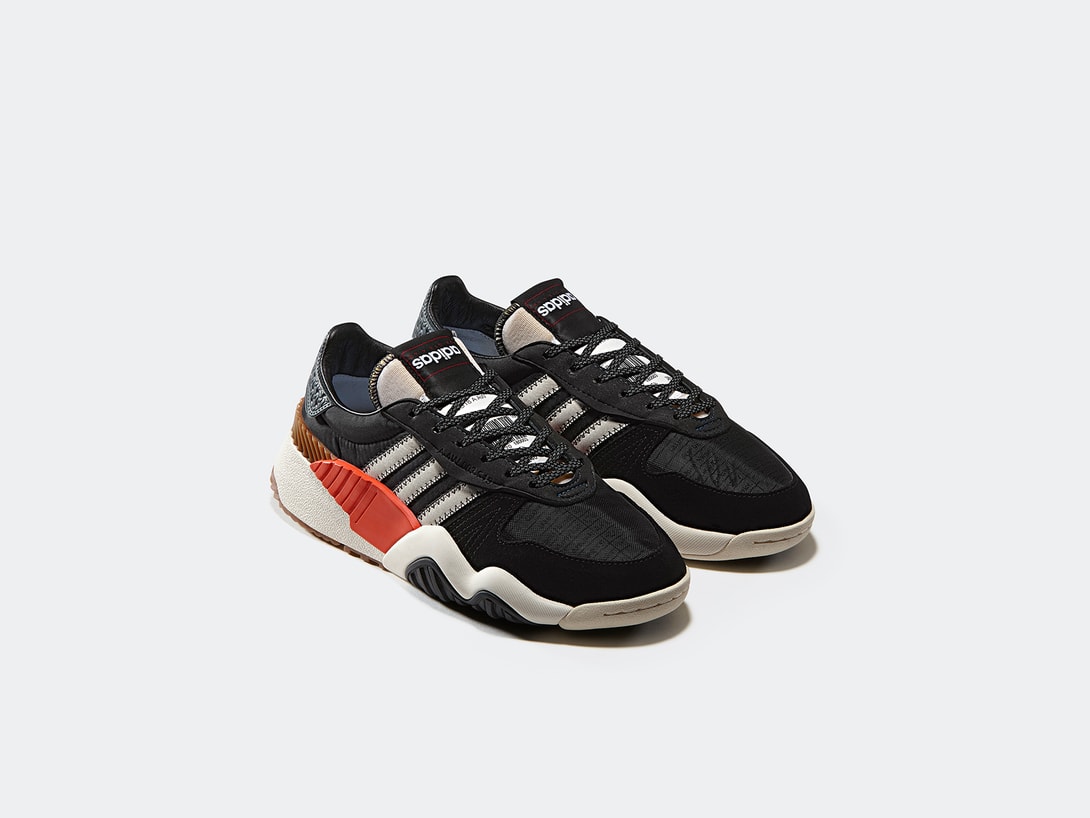 This new collection composes of jackets, training shorts, training tops and pants. In addition, they did has one shoes as well that you can pair off in their new collection pieces. But do fairness with the shoe, it's really dope and nicely done unlike with these crinkled clothes here.
So, these are the collaborative pieces that we could expect to be released pretty soon for adidas Originals x Alexander Wang for SS18. And if you pleased to have any of these, you may simply check either Adidas or Alexander wang main website for the pricing ranges and availability.
Are we getting more stressed with every passing year? It seems that we are facing more and more pressures as life goes on. Every corner we turn means something more stressful, whether it's finding a new job, getting a mortgage, or starting a family. As fantastic as these moments are, it seems that nothing comes with an easy ride anymore. This is why it's vital for us to ensure we have a relaxed disposition in every aspect of our lives. It's not just about having a great night's sleep so you feel prepared, but it's about finding the little opportunities in life to relax. What are the best ways to do this?
Practice Breathing
A lot of us don't breathe as deeply as we should. When we are stressed, we naturally breathe more shallow, or through our chest. If you don't, practice diaphragmatic breathing. This will mean that you get more oxygen into your body, which will help you to calm down. There are numerous resources online that extol the virtues of deep breathing, and it's like a little internal switch we can click when we are feeling life's pressures. Navy seals practice breathing techniques, and it's amazing that with just a few minutes of deep breathing every morning and evening, we can feel more grounded, focused, and energized. The big problem with stress is that it saps us of energy and leaves us unable to focus or cope with what's being thrown at us. The next time you face a considerable problem, stop, take a moment, and breathe.
Look At Your Home Environment
While there are techniques that can help you to relax, if you are constantly being surrounded by stress, at work and at home, you won't catch a break. This is why it's important to look at your home environment and see what you can change to ensure it invokes relaxation. It could be something very simple, such as your bedroom being cluttered. This can be easily remedied, by decluttering and making sure that your bedroom is solely for the purposes of sleep, or it could be more complex, such as the people you live with. The concept of a comfort zone is always good because it gives us that opportunity to feel relaxed and to recalibrate, so we can go back out there and fight those battles. So, look at your immediate environment- even something as simple as allergies can make us feel like death warmed up. This is predominant in the bedroom, especially if you don't have the right bed sheets and materials. There is a mattress toppers guide online to have a look at just to give you an idea of the different types of materials you can put over your mattress, especially if you are prone to allergies. This could be a major game changer, especially if you find yourself constantly under the weather, which leads nicely to the next point…
Know What's Good For You
Sometimes we just don't know what is good for us. Whether it's a bad diet, or something much deeper, if we go through life feeling like we are under the weather, it's going to affect our disposition. Your diet is the best place to begin because something as simple as a food allergy could change your entire life, as soon as you know how to treat it. Something like gluten intolerance is common nowadays, and when people make the switch to a gluten-free diet, they find themselves less tired, more focused, and better in themselves. So, while you might look at yourself in the mirror and see you that you are alive, are you operating at your full potential? This isn't just in a physical sense, but a mental one too. Your frame of mind will dictate a lot about who you are, but also, if you are more prone to stress. The expression "mind over matter" comes to mind here. Because it's been shown that people with a sunny disposition don't get as ill. If you are perennially negative, it's time to address this. It couldn't be a sign of something much deeper. Something like depression and anxiety can stem from a negative perception of oneself. Nobody deserves to go through life feeling like this, and so, if you feel that this does have a detrimental impact on your frame of mind, there's always professional help. Failing that, a cognitive behavioral therapy course is something that could help you to regain a more balanced perspective of yourself. Once you know what is good for you, this will feed you in every area of your life.
Overcoming stress isn't something that happens overnight, but by tackling these 3 areas, this will put you on the road to relaxation and a more evened out life.
Image via Pixabay
There are many different steps which may be involved in realising your design dreams and in turning your home, as it exists today, into the personal manor-house or chateau of your dreams.
In fact, it's often not easy to know where to start. In your idealised, daydream version of your ideal home, you might find yourself living in a James Bond style mansion, with several carports underneath the swimming pool, high up on the slopes of some lush tropical mountain, but with an ultra-modern Scandinavian noir feel to everything.
On the other hand, maybe, when left to your own devices, you imagine yourself reclining in an antique lounge-chair, in the middle of some French castle with such a storied history that it could fit as the central location in a series of period novels.
In practice, however, overhauling and improving your home's design aesthetic is something which will require particular steps and approaches in real time, rather than just abstract wishing and daydreaming (although there's nothing wrong with wishing and daydreaming).
Like everything else in life, taking on a major design overhaul project for your home will require a substantial degree of mental work. In order to make sure that you can manoeuvre things in the particular way you'd most like, getting your mindset right is crucial.
Here are some mindset habits you should adopt in order to make your home redesign as effective and effortless as possible.
Familiarise yourself with a minimalist ethos
Minimalism has been one of the hottest lifestyle trends of recent times, with hordes of people — particularly young professionals, it seems — becoming disillusioned with the cluttered and materialistic nature of the corporate culture and mainstream way of life, and seeking out a better and more relaxing approach to life.
Minimalism, in this form, is about stripping your belongings down to the bare essentials — those few things that are directly useful to you, or which exert a strong and uplifting emotional pull. Everything else is given away, sold, or disposed of.
Following the minimalist template for life, it's common to see people who once had large and cluttered homes filled with bags of unpacked shopping in the corner of each room, move to the equivalent of log cabins in the woods, with nothing but a small rucksack of belongings to call their own.
This is an extreme example of course, and many people will not feel comfortable or content with living a minimalist life to the nth degree.
Nonetheless, there are some important lessons from minimalism that can help you to become a better and more conscientious home designer, without having to go all out and sell your toothbrush. Here are just a few reasons why familiarising yourself with a minimalist ethos can help you out:
– Minimalism encourages people to break their emotional attachments to things (unless those attachments are strong and sincere). Being unwilling to throw away an old cardboard box, or a dress you bought two years ago and never wore (and never will wear) is generally unhealthy and counterproductive to being able to design the home of your dreams. Becoming less invested in "stuff" can be a great help for that reason. Of course, there's no reason to feel you should throw out belongings that bring you genuine joy; such as your wedding dress or a childhood memento.
– Minimalism encourages you to focus on quality over quantity. Home design is often a costly process, but when you're focusing on a few key items, rather than trying to stuff every room with as many decorations as possible, it becomes a lot more achievable. Minimalism is all about quality over quantity. In the minimalist ethos, you may have only a handful of items in your wardrobe, but all of them should be comfortable, attractive, and make you feel good. So too for your home decorations.
– Minimalism forces you to narrow your attention and can inspire you to think thematically. Coming up with a compelling design template for your home is, to a large degree, a matter of paring down disparate and conflicting elements, and creating a harmonious and unified style. Minimalism is, to a large degree, about reducing clutter and disparate elements in a home, and coming to enjoy a more relaxing and harmonious environment.
Don't fret about your perfect design template to begin with, but begin making incremental improvements and positive changes
It's a great idea to develop an idea of what your ideal design template might look like, so that you're able to properly orient your efforts and ambitions, and stay motivated as you adjust the layout and style of your home over a prolonged period of time.
That being said, however, it's important than you're able to put your ideal design template aside from time to time, in order to make incremental changes on your home without feeling disheartened that everything isn't yet the way you imagined it being in your most ambitious fantasy.
It may take a long time for you to turn your home into the avatar of your perfect dream villa on the hills, but you can always make positive changes, bit by bit, on a daily, weekly, and monthly basis.
Don't fret too much about making everything perfect from day one — remember the saying, "perfect is the enemy of good". Instead, focus on making small but real and meaningful changes, incrementally, whenever possible. Make things better as often as you can rather than becoming disheartened because you're unable to go from zero to one-hundred in the blink of an eye.
Begin to think of storage solutions as your new best friend
One of the ultimate banes of an attractive, well-put-together and well-designed home, is constant mess, clutter, and the general state of being where things just aren't where they should be, and chaos reigns as a result.
That new rug of yours has little purpose if it's perpetually obscured by a stack of cardboard boxes, or a pile of shoes that you haven't got a better storage space for.
That carefully coordinated colour scheme in your living room is all for nought if there's a jarring stack of old newspapers in one corner of the room, a stack of laundry on the sofa, and a collection of scarves and jackets draped unceremoniously over the back of one of those antique chairs that you were so happy to have found.
One way of dealing with the problem of clutter is by disposing of it — and that's often a good solution, too. For many types of clutter, however, you'll want, or need, to hold on to the items in question rather than just summarily bin them.
In the case of such a situation as that, storage solutions are your best friend, and should be your primary port of call. Storage crates, wardrobes, sofas with drawers, and so on, can be found in any style imaginable, and at a variety of price ranges. A couple of old, tasteful wooden crates in the corner of your room will, if anything, help to accentuate and complement many design styles.
A pile of unpacked belongings scattered all around, will do the opposite.
Begin collecting magazines, reading articles, and just generally building up a library of style inspiration
This step perhaps goes without saying, but it can be extremely tricky trying to come up with an attractive, tasteful, and coordinated home aesthetic all on your own, without any external input whatsoever.
Said differently; there's no need to reinvent the wheel.
Collecting and reading through home decoration magazines, articles, blogs, and other resources, is a great way of discovering style inspiration and then using the elements you read about and discover to create your own template of an ideal home.
In many cases, just having a deepened awareness of the kinds of styles that can be introduced to a home, can make all the difference when it comes to structuring your design and decoration efforts. If you begin a home decoration or redesign project with a good style template in mind, you can begin iteratively moving your entire home into a more unified and harmonious direction, from day one.
Try adopting mindfulness practices to keep you focused on the tasks directly in front of you, rather than letting yourself get caught up in your own mind
Whenever you're embarking on an ambitious project in life, it can be easy to get caught up in your own fears, preoccupations, and concerns. The slightest mishaps can seem to rob you of your inspiration, and it can be difficult to remain focused on the task at hand and see the job through, rather than abandoning it halfway.
To counteract this, try adopting some mindfulness practices to help keep you focused on the task at hand, so that you can in turn complete the various jobs you're committed to completing.
As you noticed over this site of mine, shootqueue.com, its too rarely for me to include or even promote out certain online shops unless I've tried it personally or a trusted friend of mine recommended it for me to try out. Because am too honest and I only including out these reliable and of course reasonable shops out there when it comes to their pricing ranges and same. Today, let me introduced with you this shop called Zaful.com where all the lovely and chic fashion finds for us all ladies were houses and sells out for a very inexpensive prices. I have checked it already and their items were too trendy and dope and yet they managed to set their pricing into very cheapest ones. Go check the shop now and see what they could offer you base on your fashion desire.
Below, let me share with you my best picks this summer that you might find fashionable and leads you in getting them for yourself as well like I do.
Scrunch Butt Knotted Thong Bikini
I chose bikinis. Because summer is just around the corner and I knew that I'll be more staying at the sea shores as my family and friends really loves to go on the beach as the summer comes. Hence, better yet to have some good set of swimwear to wear on my upcoming summer getaway engagements.
When was the last time you tried to do something new with the dining space in your home? If it's been a long time, now could be the time for you to improve the space. If you love to entertain and you value you a good dining experience, this is the room in your home you should be prioritising right now. With a well-designed dining space with the right furniture and finishing touches, you'll get so much more out of your home.
If you don't know where to start with making changes to your dining space, we're going to help you out so that you'll be able to get the most out of it. It's all about making the space more appealing to use, as well as improving the functionality. If you can combine the right cosmetic changes with some functional upgrades, you'll achieve the perfect dining space for your home in no time at all. So read on now to learn more about what you should do.
Modernise With Wallpaper
If you want to make the space feel more modern and up to date, one thing that you should definitely try to do is add some wallpaper. Solid colours painted on the walls never quite compares to a modern and nicely-designed wallpaper, so this is something that you should definitely look into. If you feel like your dining room is currently behind the times, this is the change to make.
Look for a Sturdy, Solid and Attention-Grabbing Dining Table
Of course, the dining table you choose for your dining space is going to be the main attraction of the room. This is the thing that you're going to be using multiple times per day, and it's the thing that's going to be at the centre of your dining space. There are many options out there, so it's really up to you. But if you want to invest a decent amount of money, it makes sense to choose a sturdy and solid table that has an eye-catching design.
Consider Doing Something Different With the Ceiling
You shouldn't ignore the ceiling of your dining room because this will certainly have a big impact on how the room looks overall. Some people decide to create patterns that can be applied to the ceiling, but this can be tricky to get right if you don't really know what you're doing. If you're not sure, there are decorators out there that will be able to help you with all of this.
Fit Lights That Hang Above Your Table
The lighting situation in your dining room is also really important, so you should try to fit lights that allow you to use the room properly and completely after dark, while also creating a dramatic impact with the fixtures themselves. They should hang down above the table so that the most important aspect of the room is always lit up fully.
Choose Simple and Timeless Chairs
The chairs you choose for your dining space are obviously going to be an important part of the room. You'll be using them pretty much every day of the year, so you want them to be right for you, but they also need to tie into the theme of the rest of the room. To make sure that you achieve this, it's usually best to choose simple and timeless chairs. They work with more designs and styles, so just make sure your choices are comfortable.
Find a Rug to Put Beneath Your Table
The floor in your dining room is one part of the space that's very easy to overlook, but you should try to avoid falling into that trap if you can. You don't have to completely replace the flooring you currently have in place if you don't want to. Even adding a new rug to the floor that can complement the other design decisions you've made in the room can have a pretty big impact on how your dining space looks and feels.
Try to Link Up to Your Kitchen as Much as Possible
The dining room only works if you also have a kitchen that's fit for purpose. It's something that you need to think about when you're designing and improving your dining room because the two rooms need to be linked up as much as possible. You might want to knock down the wall that separates your dining room and your kitchen because having that big open plan space can actually be really helpful when you're trying to make things more impressive and more functional.
Choose the Right Table Dressings and Accessories
You need to make sure that what you put on your table is fit for purpose and up to the job of making your dining space look interesting and vibrant. For a start, you need to look for simple white tablecloths to make the table look clean and appealing. On top of that, you can do something with decorative features, such as glasses and ornaments. Some people decide to create a large fruit bowl in the middle of the table too.
Make Use of Flowers
Finally, you should try to make use of flowers in your dining room because these will allow you to make the space feel more natural and vibrant, which has to be a good thing. You don't want the space to feel more sterile. After all, this is a place where you're going to be eating and enjoying life, so a bit of natural beauty is definitely going to add what you need. A floral arrangement on the dining could be the best way to go, but it's up to you.
Your dining room is one of the most important rooms in your home because it's where you can get together with your family and friends and have a good time. It's about community and family; being able to entertain in this room and share food together morning and night is really important, so work hard on making the most of your space.
There are quite a few reasons why one needs to vacation in Palm Springs, CA. Not the least of which is the amazing golf opportunities. Here are some of the best and neatest reasons why Palm Springs should be next on your vacation list.
1. Firstly, there is the airport, which is completely outdoors. The weather is extremely pleasant in southern California during most of the year. If you happen to be vacationing with small children, the airport acts twofold as it contains a playground for them to play in.
2. There is a ton of history about the valley in Palm Springs. During the Golden Days of Hollywood, Palm Springs was a playground for the ruling elite. In current days, there are guided tours which can take interested visitors to all of the different sites.
3. While summer can be very hot in Palm Springs, there are numerous resorts which have deluxe sprawling pools to cool you down. Plus, it rarely ever rains there, so worshippers of the sun have a lot to look forward to.
4. There are several palm springs golf tournaments that happen at the various golf courses in Palm Springs. Even if you are not actually into playing golf, it is a great and easy way to spot celebrities "in the wild" and give everyone back home something to talk about.
5. There are also quite a few restaurants in Palm Springs serving up the most delicious of foods. The landscape is dotted with everything from steakhouses to trendy vegan restaurants and everything in between.
These are just a few of the reasons why you need to make sure that when you are putting together a list of possible vacation spots, Palm Springs is at the top of the list.
Lace Panel Plus Size Zip Up Jacket 
Faded Plus Size Flamingo Embroidered Denim Jacket
If you are into plus size clothing. It's kinda hard for you to find the right store for you and the right set of clothes for your end. Because not all the brands we know are too fond in producing these finds as the demand were for the regular sizes oftentimes. Henceforth, if you are looking for the best store to shop for your plus size clothing, you should then take a look this shop called Rosegal.com where all the plus size casual and even formal finds were houses and sells out for a very cheapest prices. To confirm this, you can heads up to their shop now and see yourself on how awesome the shop itself plus on how reasonable and fashionable their each items were.
Plus Size Vertical Pocket Drawstring Neck Hoodie
Pockets Plus Size Long Cartoon Girl Printed Sweatshirt
The shop, rosegal, is actually mainly for fashion. But this recently, their shop got widen by getting some home decors pieces as well on their shop which are too fine and really a worth to get as they're all useful and inexpensive. You can now shop now over the shop and see all the perfect finds you could get for yourself and for you family. In addition, you can also get your mum some home stuff like bed sheet, comfort room rags and carpet and you can even get some led lights for your garden and room in generated of solar panel that can conserved energy and environment friendly.
Plus Size Long Open Front Lace Crochet Cardigan
Open Front Plus Size Froral Print Cardigan
Rosegal.com is too reliable and reputable based on the rank they've got recently and a lot of my blogger friends are keep on talking about them and even suggested me to buy now some of their items as they have found their items in quality and as for the price wise they're the most cheapest among others which is a plus to them, right? so what are you waiting for? go check them out now here and get your desire items today before they'll runs out of stocks.
My one of my favorite online shop called Rosegal.com is now having their spring sale today where you could have to at least 15% off in every item you would get. Actually, this 15% off is a huge discounts already as their selling items over the shop are too reasonable and cheap in comparison to the other same online shops today in the market. Hence, having it use, the coupon code, will help you to lessen the total amount of your shopping cart. To confirm this you can visit the shop yourself and try to buy off some of the items you think is very useful for yourself.
Plus Size Feather Print Flounce Swimsuit
Beach Cover-up Plus Size Wrap Dress
Casual Plus Size Lace Trim Dress
This shop is very fond in selling plus size clothing for both men and women. Hence, they're the most reliable online shop today based to my fashion blogger friends as well to these fashion forward people who used to review an online shops. Meaning, rosegal truly built its reputable online as a lot of people were too pleased to buy off or to get of some of their items over the shop. Thus, no doubt why they keep on making their items on sale than to the other same brands or shops online today. For more details, you ca simply check the main site and dig in all their selling items for your convenient.
Plus Size Chiffon Off The Shoulder Floral Hawaiian Blouse
Plus Size Sheer Lace Blouse with Crop Camisole
Plus Size Plaid High Low Blouse 
Another god thing about this shop is, they did offer a free shipping worldwide without an additional fee as they sending items in totally free. Yes! whether you are in the US or in Australia they did make sure that you could received your items in a very timely manner which I know that everyone of you would love about, right? Hence, what are you waiting for?go see more of their items now by to click here for further details and for more item's sections.
Whether you are spending a long weekend with the girls, or are planning on enjoying a romantic getaway, you must pack smart, so you can look your best in every moment. No matter if you are going out shopping or exploring the nightclubs of the city, you have to dress according to the occasion. While the type of the trip and the hotel you're staying at will determine your wardrobe, accessories will make a huge difference. Find out more about the fashion items you'll need for every short city break.
Clutch Bag
While you might have a large tote accompanying you during your travel to hold all your clothes and accessories, when it comes to dining out at your hotel or visiting a nightclub, you will need a clutch bag to go with your little black or red dress and your high heels. You don't want to look out of the place if you are staying at the Courtyard London Gatwick Airport and enjoying a cocktail after a three-course menu.  
Comfortable Shoes
Girls love shopping, and being on your feet can be tiring. Instead of strolling the shopping centers in your high heels, you can pack some flats or ankle boots to go with your smart casual trousers and your cotton blouse. Sightseeing will also involve a lot of walking, so make sure you have some elegant trainers packed just in case you need to slip out of your shoes and get into something more comfortable.
Boyfriend Shirt
The good news is that you can combine a boyfriend-shirt with different other items. Wear it with a belt and a denim skirt, or simply let it loose over your leggings. This item is the perfect casual piece of clothing for every city break. It goes with a wide ankle black trouser, as well as jeans.
Light Leather Jacket
Image via Davids Kokainis
No matter how much sun the weather forecast is promising, you might want to get a light leather jacket in your bag. This will save you from freezing on a cold night or early morning after a great event, and complement your style when you are walking the banks of the river or having breakfast on the roof terrace. Suede leather jackets can be worn with a smart dress, as well as jeans or skirts.
Shades
Image via Ayo Ogunseinde
No outfit is perfect without sunglasses and accessories. Even if you are visiting in the winter, you might need these, especially if you would like to hide the telltale signs of a late night. You might even take more than one pair of sunglasses to match your different styles you would like to wear during your short break. Sunglasses create a casual and mysterious look every time.
Whether you are planning a short break in London or a city break in Brussels, you need to pack the right fashion items to look your best and feel connected with the place. The items above will help you make the most out of your trip and embrace your true style.
Some people might think that dressing up is a piece of cake and being fashionable can be done without thinking that much. Well, that's so far from the truth especially during spring. That's because the weather is somewhat unpredictable in spring. There're times when it's raining and other times when the sun is shining. It might rain in the morning so you have to put on something warm, while in the afternoon can be a different matter when you'll have to be in lighter clothes.
I can imagine how this can be a problem to some people but in reality, it shouldn't be such a cause for worry. There's an SS18 style guide packed with cool trends for the spring fashion season that people can follow.
Kaleidoscope Colour Schemes
The warm days are upon us and it's time to pack up our winter clothes. Bright, colorful, and bold shades that make even the simplest of outfits pop are what's in vogue.
SS18 fashion shows were bursting with primary garments that seemed to almost walk themselves up the catwalk, from the tomato red dresses of Preen to the canary yellow gowns of Balenciaga. Wear clothes in vibrant shades such as electric blue, tangerine orange, and acid green. You can likewise mesh your shades together in the form of striped tops and checked skirts or wear them in blocks. This is the time to stand out and be loud with your clothes.
Also fill your wardrobe with the color lilac because it's the dominant color palette this spring.
Bring Back the '80s
The 80's was a fun time to dress up. Experimenting with clothes was cool and it seems that anything goes during that decade. Just recall what Madonna and Cyndi Lauper wore at that time. Pouf skirts, power suits, ruched tops, and lashings of denim; SS18 is rewinding the clock and dousing itself in '80s glamour.
Create an outline of emphasised shoulders, nipped in waists and lean legs. During spring days, go for high-waisted, light-wash jeans and square-shoulder blouses, and at night, go for a top-heavy, ruched-velvet dress enhanced with hoop earrings. Also wear parachute pants, turtleneck sweaters, waist belts, crazy prints, and puff sleeves.
Light Fabrics for Light Evenings
Consider fabric weight when it comes to seasonal trends. It shouldn't be all about color and style. Incorporate less heavy fabrics into your wardrobe as the days and nights warm up. Too heavy and thick coats are no longer "in".
Lighter fabrics also usually give us a more undefined outline that can flatter all body types. Furthermore, the soft, floaty silhouette is another big SS18 trend we should be excited about.
2018 Vintage Flower Power
Florals are still very much fashionable but on a more subtle and vintage note this coming season. SS18 fashion shows almost across the board went mad for patterns powered by petals.
Check out the SS18 catwalks of Erdem and Dolce & Gabbana; using soft pastels and intricate patterns, they nailed the spring-ready floral trend. Go for high-neck tops and traditional tea dresses — similar to Emilia Wickstead's range — and go for classic fabrics like silk and brocade, to pinpoint the vintage floral look in time for blooming season.
Learn to Layer
If you don't know how to style yourself and dress up, this season will be challenging for you. The weather can be both rainy and sunny. So what clothes should you wear? The answer to that is to layer. If you're a creative dresser, layering your staple wardrobe pieces opens a world of untapped possibilities. Be able to mix and match outfits and colors easily. Channel the colour-blocking trend we mentioned earlier and build a multi-layered outfit out of contrasting hues.
You should also take into consideration the shape of your layered clothes. You need to contrast your fittings. Go for a bralet that hugs your body then pair with culottes, flares or wide-leg trousers. Slip on a sheer wrap top over your bralet and top-off with a cropped silk, loose-fit kimono and tailored tuxedo jacket. All these pieces work perfectly together. Add and remove as the day and evening goes by to suit the dress code and weather. Mixing outlines is key to this developing fashion trend.
Fabulous Fringes
From the jackets of the SS18 Bottega Veneta to the dresses of Calvin Klein, fringe hemlines are going to be swinging everywhere this coming season. Everything about SS18 seems to be taking fashion to the max — consider the technicolour outfit palettes and striking '80s-inspired silhouettes. Fringed clothing is just another exciting trend this season. Improve your evening wear with long, flowing fringes that swing in sync with your every move. More dancefloor-diva chic than festival-girl boho, SS18 fringes are made to enhance, not just accessorise. Get yours in a long, luxe fabric and remember, the greater the swing, the better.
Checkmate
Throughout SS18 fashion weeks across the world, the plaid pattern adorned almost every outfit scenario. From the trenches of Burberry to the dresses of Fendi, checks came in all sizes and shades, which means you should keep an open mind when it comes to selecting your ideal check colour for SS18. You can go all cute and dainty or go edgy and bold. It's all up to you. Designers are now investing in versatile prints that can be worn and repurpose as the year goes on, just like checks.
Springtime Suit Shorts
During the day or for off-duty events, you might not feel that the '80s-inspired trouser power suit is the look you want to go for. If that's the case, opt for shorts instead. Forget limiting your wide-shoulder blazer to tapered trousers, spring 2018 is going to salute knee-length shorts that you can pair with tailored jackets and ruched chiffon shirts for a power-ready vibe that is great with the warm weather. At SS18 fashion shows, Off-White did power shorts gorgeously in pink before polishing the look off with an open collar shirt, while Balmain went more office-focused with on-trend checks and a monochrome palette.
Dressed-up Athleisure
This spring, it's all about athletic-inspired clothing especially the two-piece tracksuit. Blend athleisure gear with glamour-focused accessories. Stillettos and sportswear strutted to the forefront of all SS18 fashion weeks. Wear your joggers and cropped top with high heels and statement jewellery, and you have a look poised to take spring 2018 by storm. This also works the other way. For instance, wear sneakers or cute plimsolls and dress them up when the warm weather hits with a floral dress or checked skirt. Striking the balance between casual urban and dressed-up chic is the key to nailing this cool trend.
Spring-ready Accessories
SS18 is driving the trend for bumbags and belt bags. Just check out Gucci and Balenciaga's SS18 fashion shows. To keep in line with the power of the '80s, opt for waist belts that pull you in for that iconic Dynasty-esque silhouette and put the final stamp on the look with over-the-top earrings.
During April showers, bring your chic and sleek umbrellas. Cat-eye and tinted aviator sunglasses will be the style-of-choice as the sun shines again in May. As for shoes, bring out the espadrilles and flatforms for daytime then get ready for sunny evenings with wedges and open-toe heels.
Overhaul your wardrobe with these key SS18 trends and get ready for stylish looks that will carry you perfectly in every occasion.
Sources:
http://www.elleuk.com/fashion/trends/longform/a40085/fashion-trends-2018/
http://www.whowhatwear.co.uk/spring-summer-2018-fashion-trends/slide9
http://www.vogue.co.uk/gallery/sunglasses-trends-spring-summer-2018
http://www.marieclaire.co.uk/fashion/summer-fashion-trends-2018-553795