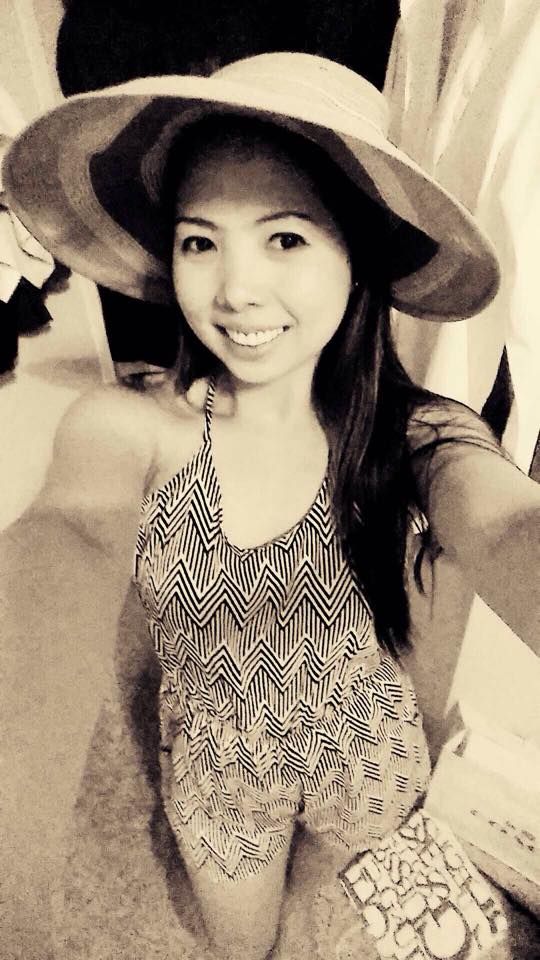 As I've always say, summer season is the one I enjoy the most. That is why am so pretty excited whenever time we got an ticket booked for Philippines vacation. Yes! you've heard it right that we'll having our Philippines trip again this coming months, definitely for summer. And I think, this trip will be good for one month at least because we, my family, had planned so many, hence I really need to prepare not just myself but also the outfits I'll trying to pull off.
A while ago, I've managed myself to go on the nearby stores to have some pieces on. And Ive got this jumpsuit which is perfectly for summer, right? I'd liked it because it does comfortable to wear and the fabric used is very light that could be awesome to wear in the seashore.
Alright then, that will be all for now because I can put up some details here yet since I'd planned to have some summer posts in a few weeks that's includes my Philippines vacation. I hope you can tune in.. Thank you and have yourself an lovely day~~
Summer is the most season I'd looked forward to. Because we can enjoy the sun plus we can wear these beautiful and light kind of clothes. Recently, me and the family heads up to San Diego to visit a friend and with no plans yet the friend invited us to Santa Monica Pier to have some fun times. Luckily, there were some nearby stores there were we could buy off proper clothes for the beach.
I've had bought this cutie pink beach suits, sorry though because I didn't know on what the term to use for this beach find, bear with me then.. hehe And I simply paired it with my black mini shorts that I think compliments to the pink suits Ive got, right? what do you think? do I pull this outfit off? Also, I've managed to have an big hat too, which my in law given me that day.. then, I just spiced it up with my Burberry sunnies that Ive got in kohl's of course in a very reasonable price.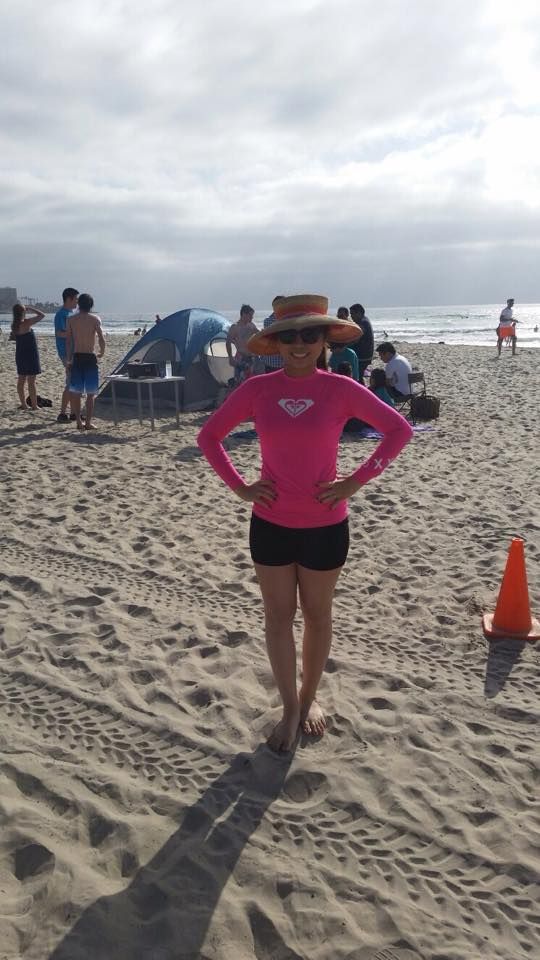 Some peeps got their tent's stands, while others like we do, prefers just to see the sun goes down and breathe the fresh air and enjoy the moment.
Firstly, let me sorry for not updating this blog for quite a long time. Though I supposed no I really meant to blog at least one blog post a day but I fail to do it because of my offline errands that are needs to attend on the timely fashion hence I gotta sacrifice this blog in a way.. For that, I hope you can bear with me?? hehehe
Anyway, though life in the US its just paced and everyone's busy doing their own thing to live on. I think, will have still to manage to have or to practice our social life by simply attending an friend's birthday party and other gatherings. Though, I am not really into this and yet am trying though to attend for me release the stresses am getting everyday and yes it did works out.. 🙂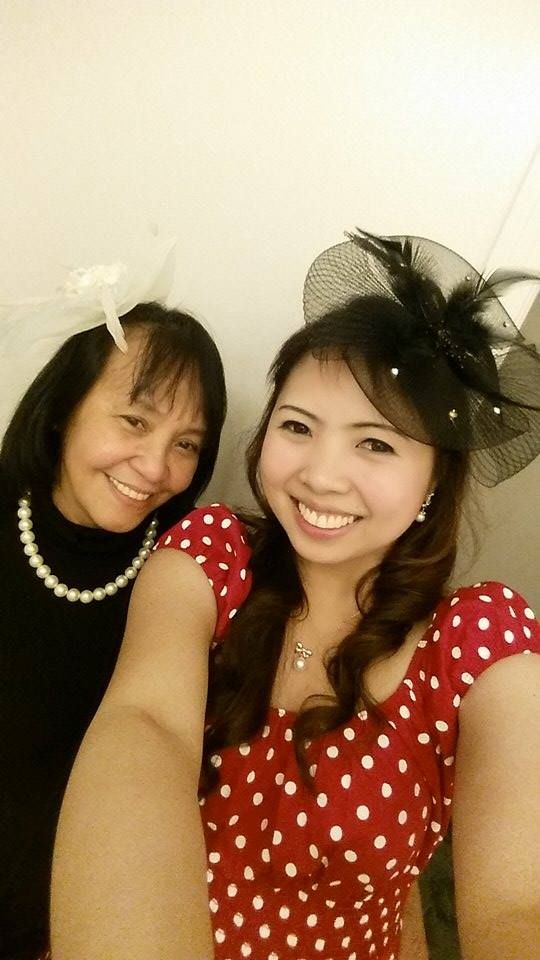 A good friend of mine named Edna, but I prefers to call her " Ate Edna" Ate – means big sister in Tagalog and since we're both in the Philippines, it is proper for me to address her like that though American people aren't particular on how they can address their seniors which I don't plan to acquire at all. She invited me over for her mom's birthday and the party has an theme were we should have to wear an 80's inspired outfit. I really liked it because it is my first time to wear up an 80's dress plus I felt an quirky feeling on it,  for me,its like am on a cosplay.. hehehe funny right? but overall, I've enjoyed the company of ate Edna and we really have a blast on that day, Good thing Ive got to know her and we became best friends..I am truly blessed to have an best friend like here..
By the way, the outfit am wearing are from Macy's and I bought it for like 20 USD, if I am not mistaken, then the accessories ( earrings, necklace and bracelet) are all from bellast – an online shop that I used to work as blogger before and yes! I just got them for free.. 🙂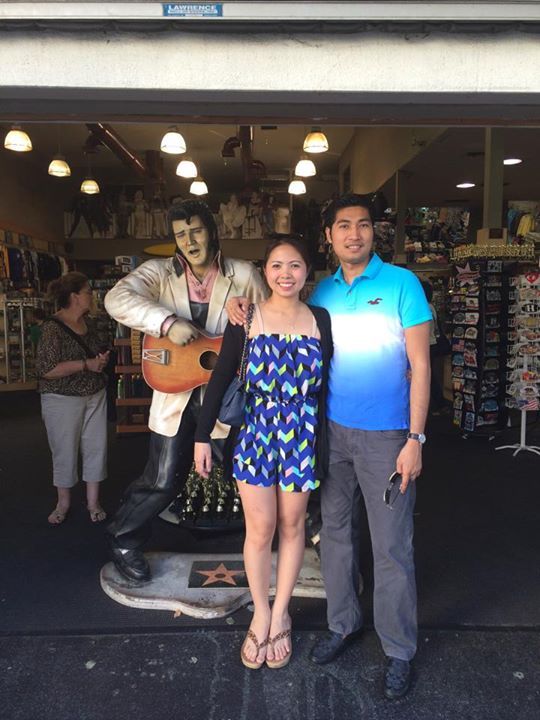 Me & hun
Los Angeles is one of the dream city of many. That's why if you found yourself one day roaming California you better to heads to L.A too for you to see on how beautiful it was in person. Honestly, I don't find the place extra special or I just couldn't enjoy the fancy lifestyle that this city has to offer? Anyway, what I'd like most while visiting here is to meet my long time friends that we haven't seen for years already and one of them was the awesome guy below..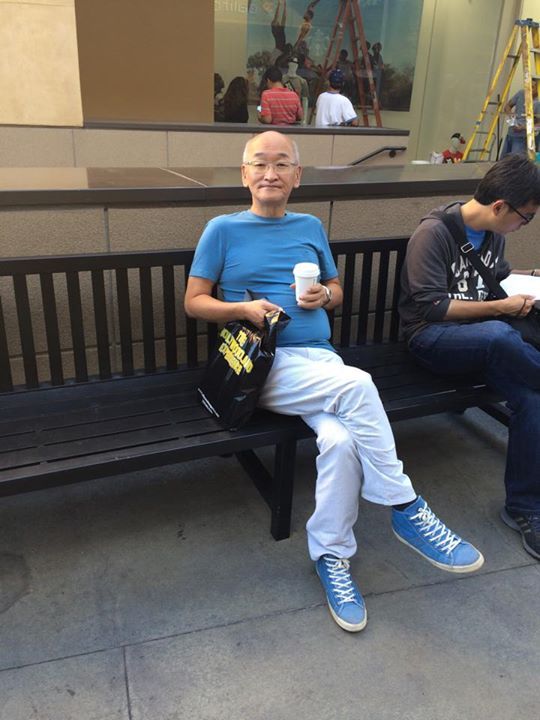 Meet Mr. Chung, he has been a friend since 2010 back in the Philippines and I am greatly happy to meet him here in L.A while he's having his vacation. Actually, Mr. Chung is my best friend's husband though my best friend wouldn't make it here due with her personal circumstances  and still Mr. Chung had managed to have his vacation in the State. But I'd still hope, might be this year, I could meet Mr.chung again together with my best friend..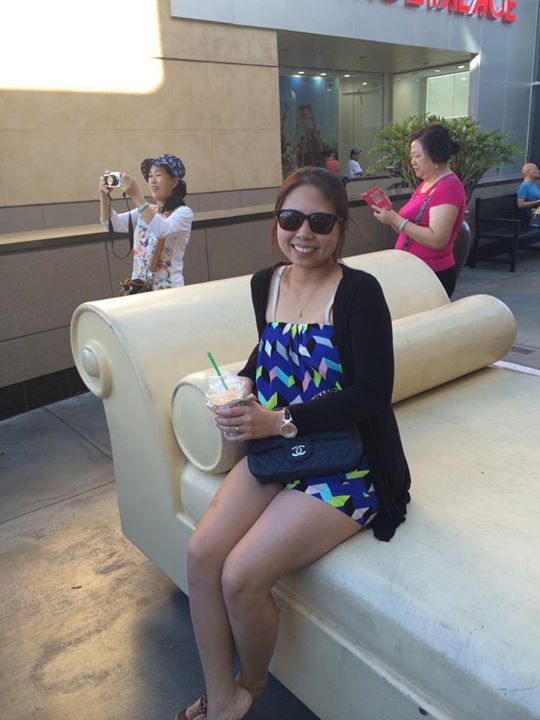 I got tired on walking on the street of fame. Good thing, there were some free seats nearby hence I can rest a bit..
For my outfit: I am wearing Jumpsuits that Ive bought in Macy's for about 20 USD, If I am not mistaken. While the flip flop is from Kohl's and I bought it for 10 USD included the coupon code discounts I have in hand..
The bag is given by my brother as birthday present and the MK watch is from Shopbop.com together with the sunnies. They just sent it over my way for free in exchange of my honest review on my other site – Detodoeuropa.com.
Okay, that will be all for now and please keep on checking me here for more personal updates..
We don't have this winter season in Cali, literally snowing I mean. But when the ber months comes, it may surely be cold to death and I cant really bear with it. But sometimes it is amazing to see on how the snow falls down that is why me and my family had decided to go on to the remote area where we could see the snow falling down like an London bridge,lol. The place is in palms spring, it is actually on the peek on the mountain and you"ll needed to ride on to cable cart before you can reach to this white breeze mountain.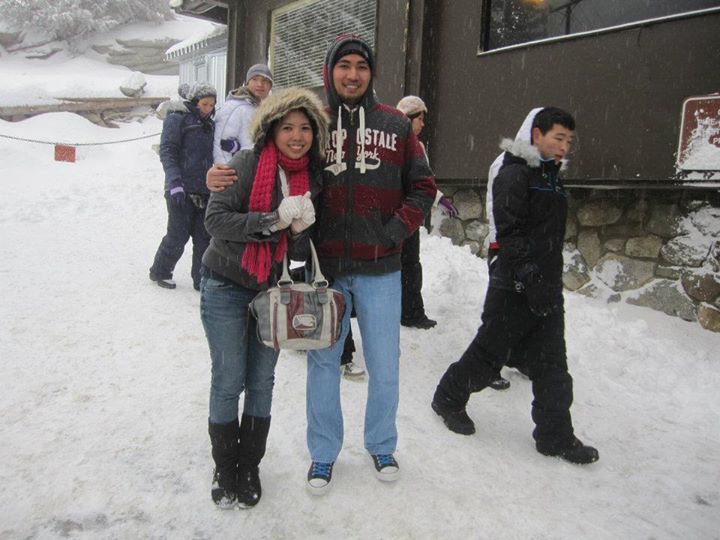 me and the husband
We really enjoyed playing with the snow though it is bit tiring to reach this place and you have to have an severe patient as queuing to the cable cart ride because a lot of tourists are waiting to have a ride going to this place. I suggest you though to come early as possible as you wanted to witness this quite amazing scenery on the top of the mountain.
But of course, we have to managed to get snap as an remembrance for this trip. Okay, that will be all and I hope you'll keep on checking me here for more of my trips and updates.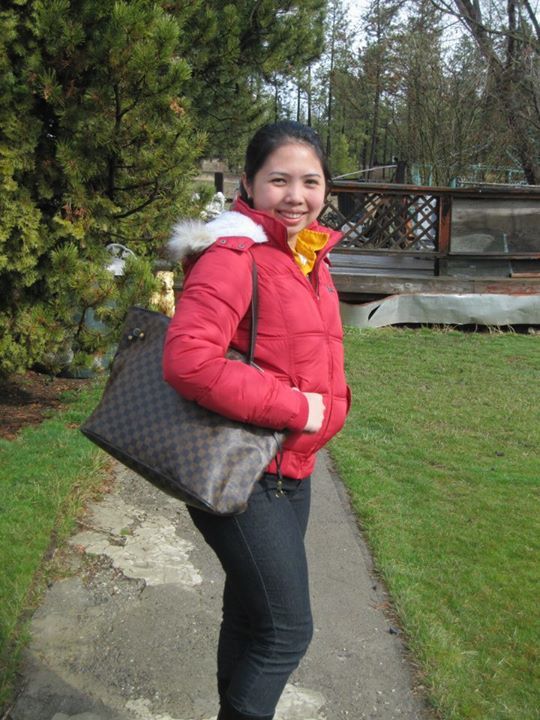 When every time I want to relax. I'll go into places that is way far to the urban life, in away am sending off myself to the rural where I can have this peace of mind and a fresh air to breath on. Recently, me and husband got an invitation to aunt to visit them over in Washington for at least one week but due to the circumstances we got from work we can only stay for like 4 days but still enough though to take a breather.
From California, we flew all the way to Washington and if I am not mistaken it took us for 1.5 hour to reached the land of WA. I must say, this state s pretty quiet though we already got to the capitol already, I think this was the rural life is..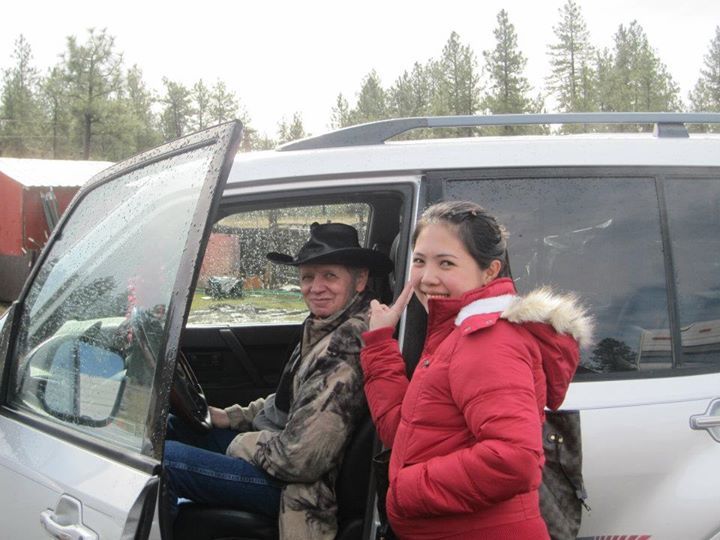 Me and uncle Will
My relatives used to live in the wide farm and what do we expect? they've got all the domestic animals raising at their backyard as well to their porch they'd got an animals too. Yes! seriously all animals are roaming to the place..eheh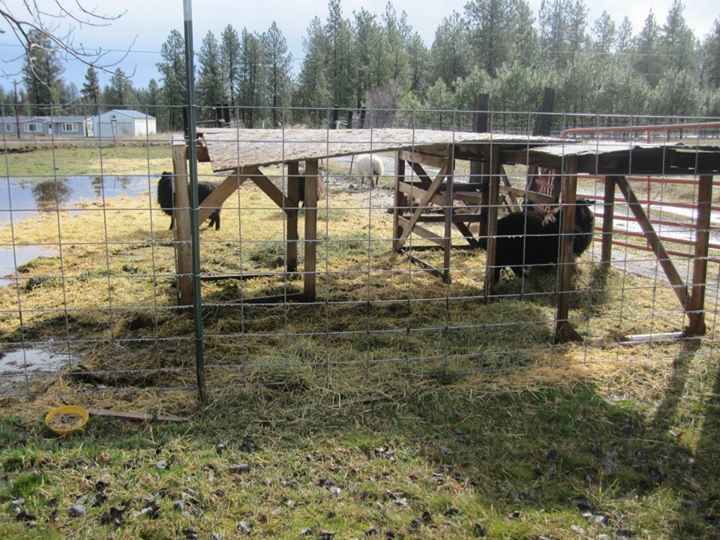 Look what they've got here, some furry sheep and on the side of it there were an small houses for animals that my grandma built up, sorry I cant managed to take a photos of it since we're quite busy that time we're staying to their home. Overall, living in the countryside is much better than to city, on my opinion, because the cost of living isn't that much were in fact you can raise your own animals and plant some veggies too, to live on. Unlike in Cali where all things has an price tags.