As important as it is for the bride to look good on her wedding day, it's just as important that the groom looks his best too. The majority of grooms opt to wear a smart suit on their big day as it brings some style and sophistication to the event. But some men find suit shopping challenging and often don't know where to start. This is one of your main tasks so you need to get it right. To give you a head start, here are some wedding attire tips you could do with knowing.
Find out your measurements
No matter what style of suit you are thinking of wearing on your wedding day,  knowing your measurements is essential. Getting measured before your start your search for the perfect suit will make it far easier to find one that fits correctly. Tailors such as Michael Andrews Bespoke and Knot Standard will take your measurements to ensure your bespoke suit fits like a glove. Whereas off the peg, designs will most likely come in set sizes. So if you can't get to a tailor, ask your partner or a friend to measure you with a tape measure. If you're unsure how to do this, there are online tutorials to help you do this more accurately. This will ensure the shoulders, trousers and sleeve feel comfortable and give you room to move around.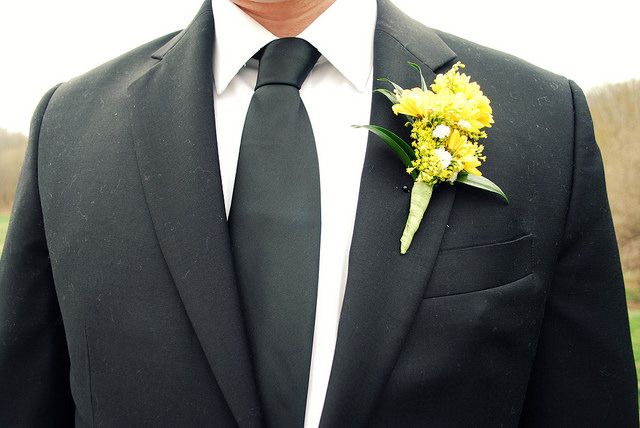 Choose the width of your lapel carefully
When selecting a suit jacket, always look at the size of the lapels. The width will determine what kind of style you want to portray. Narrow lapels are seen as very trendy and modern, whereas wide lapels are seen as traditional. A mid-width is often the most popular as it creates a timeless feel. If you choose to have a bespoke suit made, you can choose the size you wish to have. But with off the peg suits, your options made be limited and you may need to have them altered to get the size you prefer. The lapel size will also influence your tie choices. Your tie should ideally be the same width as your lapel to create an appealing finish.
Make sure the colour suits your skin tone
There are more colours to choose from than ever before when it comes to wedding suits. So you need to make sure the one you choose works with your skin tone. Otherwise, you could look washed out, which won't look good on your wedding photographs. You can't go wrong with traditional colours such as grey and navy. But don't be afraid to try less traditional options either such as burgundy and dark green. You may find these alternative colours suit you a lot better
These tips will not only apply to your wedding attire but can be used for future suit buying experiences too. Another tip to remember is to always unbutton your jacket before sitting down. Then button it back up when you stand. This is not only polite but will make you feel more comfortable and boost the longevity of your wedding suit.