Despite what the song and wedding traditions may say, diamond engagement rings are not every woman's top choice. While there is no denying their timeless appeal and beauty, they just aren't for everyone. But if you were intent on proposing with a diamond, this can leave you in a difficult situation. Thankfully there are ways you can both get what you want. To assist you in your search for the perfect engagement ring, here are some fantastic compromises you should consider buying.
Garnet gemstones
The deep red colour of garnet gemstones makes them a striking choice for an engagement ring. They are durable and long-lasting but only if they are cleaned regularly and worn with care. Garnets are also more affordable than most gemstones, making them an appealing choice to those with a tight budget. All gemstones have their own significant meaning and garnets are no different. Traditionally, garnets are associated with devotion and commitment which are perfect for a proposal. With the help of a professional, garnets can easily to added to diamond engagement rings. The combination of diamonds with garnets is a popular one as it creates a look that really makes a statement.
Claddagh ring
If you or your partner have Irish heritage, a Claddagh ring could be the perfect diamond alternative to use for your proposal. These traditional rings feature a heart, crown and two hands- which symbolize respect, love and loyalty. Claddagh rings have been around for centuries, making them rich in history and cultural significance. The ring is worn facing outwards during your engagement but is then turned to face your partner once you are legally married. It may only be a simple design, but the meaning behind the Claddagh ring makes it very special indeed.
To make the ring feel more special, you can have a diamond set into the design. This could be around the band or to cover the heart shape in the center of the Claddagh design. Either way, proposing with a Claddagh ring is guaranteed to mean the world to your lady.
Pearl
Pearls have become an increasingly popular option for engagement rings. Their ivory colouring gives them a classic look that works well no matter what you wear them with. But their rounded shape adds a contemporary feel to the ring's design. Like garnets, pearls also have their own significant meaning. Giving someone a pearl shows worth, humility and purity. All of which are beautiful sentiments to give to the woman you love. You have the choice to buy a ring with a single pearl or one that has multiple smaller pearls combined. Pearls also work well when combined with diamonds of varying sizes. So talk to a jeweller about choosing the right pearl and what stones could be added to make it even more spectacular.
If you still have your heart set on proposing with just a diamond ring, why not have it custom made. This can add a more unique and personal touch that the lady in your life is bound to adore.
Fall is here, and it's time for those all-important wardrobe updates. If you're keen to follow the trends and look stylish this fall, don't forget the detail. Accessories can make an outfit and increase the versatility of your wardrobe. Here are some top styling tips to help you accessorise those key fall looks.
Hats
You lose a lot of heat through your head, and nobody wants cold ears. Hats are a fall essential, but which type will you choose? Thankfully, there's a whole array of options to suit every occasion.
For a great smart casual look, go for a bowler or felt fedora. Black, navy and grey are excellent options. If you're looking to add colour to an outfit, opt for camel or burgundy. These more formal styles work well with trench coats or faux fur gilets. Pair with skinny jeans, blouses and boots for a cozy, chic getup. Fedoras and bowler hats are also a fantastic accompaniment to knitted dresses. Team with thick tights, a pea coat and brogues.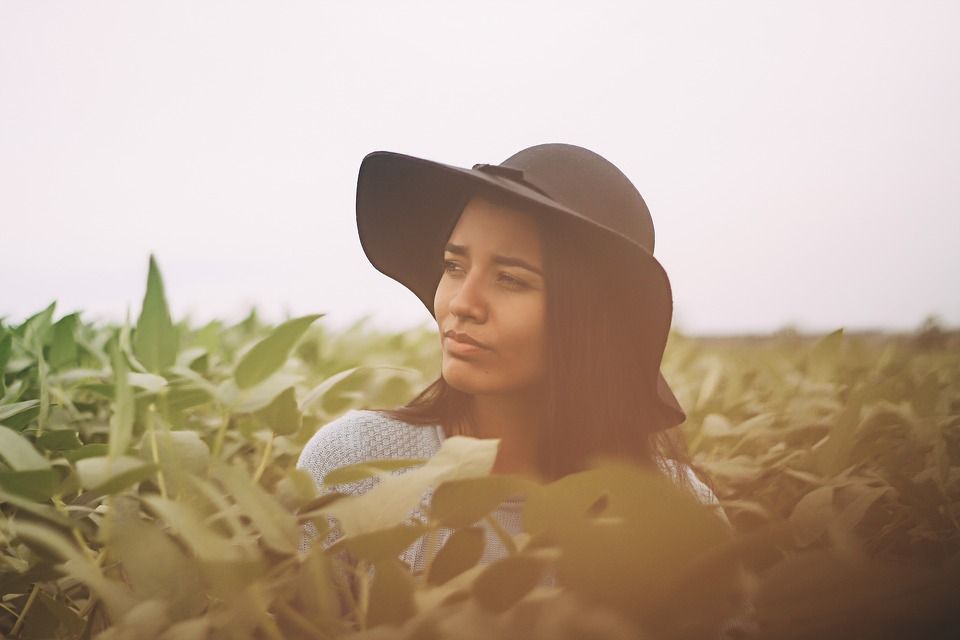 Image source: https://pixabay.com/en/woman-girl-hat-field-leaves-1149965/
If you're after something a little more casual, go for a cap or a beanie. Beanies and bobble hats are the perfect cold weather accessory. They look cute, and they'll keep you warm. Caps are a nod to the 90's, a trend, which is back with a vengeance. Wear a wooly bobble hat with slim-fit jeans, slouchy boots and an oversized boyfriend cardigan. Team a cap with mom jeans, a sweater and sneakers for the ultimate in style and comfort. If you're keen on retro styles, invest in a bandana that can be worn many different ways. Wear as a headband with casual clothing or as a scarf with a smarter blouse.
Image via https://pixabay.com/en/photos/winter%20hat/
Scarves
A scarf is a fall staple. There are kinds of different styles, and you can use them to dress an outfit up or down. Lightweight scarves are ideal for bright, warm fall days. Thick woolen snoods are perfect for freezing temperatures. Wrap a wide-knit scarf over snuggly jumpers and add a bobble hat for wintry walks with the dog. Or go for a silk scarf for a glamorous night out.
Scarves are not just there to keep you warm. They can also add color and texture to your outfit. Switch up the fabrics you wear, and use your accessories to make your ensemble more interesting. This fall, go for animal print, plaid, or luxurious looking metallics.
Image credit https://commons.wikimedia.org/wiki/File:Scarf-colour-isolated.jpg
Gloves
Your hands are often the first parts of your body to feel the cold. On those chilly days, there's nothing worse than struggling to get your tickets out or find change because your hands are freezing. Gloves are practical, but they can also be incredibly stylish. You can add a color pop with gloves or a luxe feel with leather or faux fur.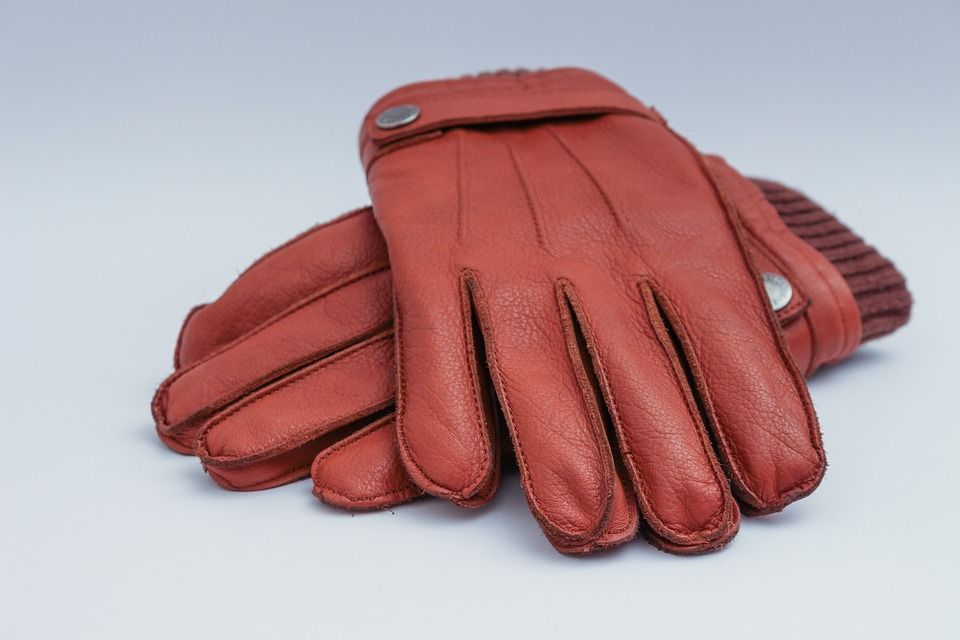 Image source: https://pixabay.com/en/mens-leather-gloves-brown-apparel-1194450/
Bags
Most of us love buying new bags. There's a bag for every occasion and a new season is a perfect excuse to invest in some new styles. Jewel tones like midnight blue, scarlet, and deep purple, are excellent color choices for the fall. Black is a classic that will never go out of fashion. If you're looking to make a statement, leopard print is always a good idea in the cooler months. If you are going for a printed bag, keep the rest of your outfit minimal. If you've got a leopard clutch, for example, this will look incredible with a simple but beautiful black cocktail dress. Oversized bags are a fantastic investment for fall. You can carry extra layers around with you, as well as your usual handbag essentials and an umbrella.
If you're looking for a casual bag, opt for a rucksack or a satchel. Both of these vintage styles have made a catwalk comeback, so you'll be bang on trend. Look out for metallic satchels as a change to the traditional tan and black leather versions. Add a leather rucksack to cigarette pants, a maxi cardigan and tasselled loafers for a sophisticated take on Boho style. Look around for styling tips on sites like Instagram. If you spot a celebrity sporting a killer bag, you can probably find a cut-price version on the high street.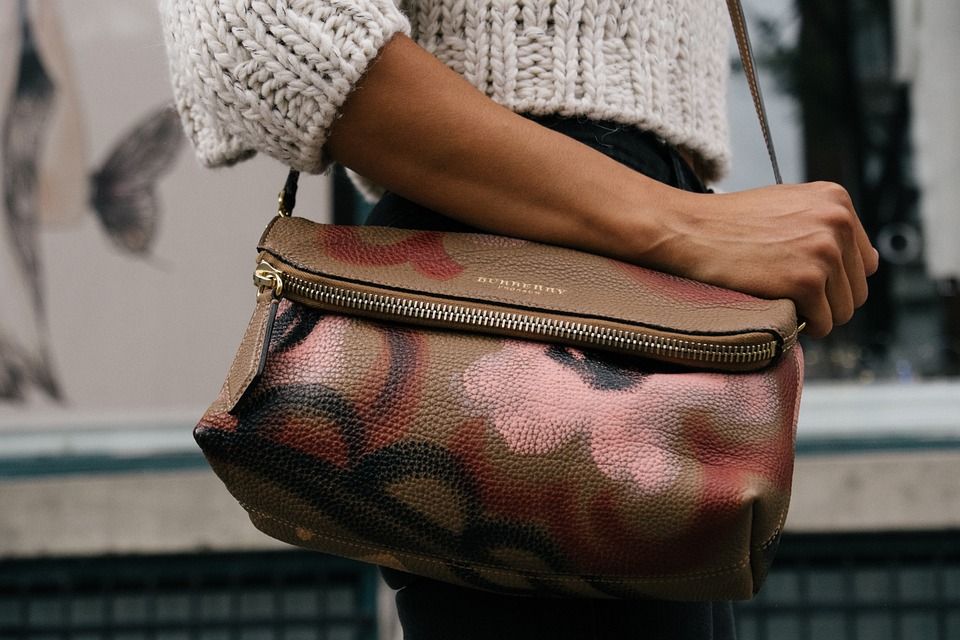 Image courtesy of https://pixabay.com/en/purse-woman-pattern-leather-bag-1031547/
If you're looking for ideas and inspiration this fall, look no further than some new accessories. Adding a hat, scarf or bag can transform an outfit and give you all kinds of different looks from a capsule wardrobe. Embrace the catwalk trends, and style up your clothing with different accents. Your new accessories will keep you warm, and ensure you look stylish whatever the occasion.
There are some cities that you really have to get in among to truly experience them. Those cities that are like little rabbit warrens of winding streets and side avenues. Other cities are more "cityscape" cities. You know the type – they are places that you'll see in wide-frame photos encapsulating the skyline, usually at night. Into the latter category fall places like Dubai, Shanghai and of course NY.
There is a reason cities will fall into one of these two categories, and it usually has to do with a city being a financial center. Those prior three mentioned all have this in common. Space is at a premium, and when we run out of it at ground level, we build UP. That's why we get skyscrapers, and skyscrapers make cityscapes. And nowhere is this more ably demonstrated than in New York.
Getting Into An Empire State Of Mind?
This is one of the things that makes The City That Never Sleeps exciting for a tourist. Simultaneously, it also makes it a little intimidating. When you visit New York for the first time, bring a neck pillow, because you spend a lot of time looking up. Usually while saying "Wow! You don't really get how big it is on TV!". But you don't want to be THAT tourist, so it's worth thinking of some ways you can even up the score with this most beguiling of cities.
Don't Try To See Everything In One Trip
New York is one of the world's most populous cities, and the most populated in America. So there is going to be a lot to do and see here. On one visit to New York, it's easy for your eyes to get bigger than your belly. You will want to see everything.
The Brooklyn Bridge – driven over by your favorite TV show characters, probably
It makes sense to narrow that down to some real specifics. Are you a TV buff? Pick some locations that mean something to you from Sex And The City, Gossip Girl or Mad Men. A foodie? Pick some restaurants that reflect your tastes (there will be some in New York, whatever your preference!).
Don't Look Up – Look Down On NYC!
Sacrilege, I know, but a city that has been celebrated on screen and in song so often can handle it. Instead of walking around with your neck craned to check out the sights, see it from the sky. Take an NYC helicopter tour and see the Brooklyn Bridge, Ellis Island and other sights from above. This way, you'll avoid the common condition "Tourist's Neck"!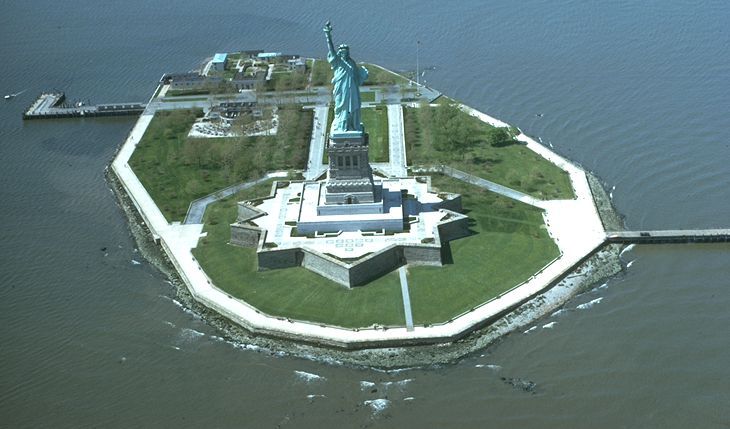 Not so big now, are you, Lady Liberty?
Don't Act Like A Tourist
It sounds elitist, but bear with it. If you go to New York, of course you are a tourist, and without you the city would be a lot poorer. However, the more you act like a tourist, the more you will be treated like one. And New York is a busy city, as Frank Sinatra mentioned. If you mill around sidewalks taking photos and getting in people's way, they will not be shy about letting you know.
Selfie in Central Park = Good. Selfie In Grand Central Station = Bad
Cab drivers will charge you "tourist fares". And by trying to tick off all the major landmarks you'll miss some of the lesser-known spots that you'd actually love. Because New York is home to so many people, and therefore is a treasure trove for people just like you. How do we know? Because with nearly 20 million inhabitants, it statistically must be home to some people just like you.
Follow the tips above and your first trip to New York will be everything you hoped it would be – that's a promise.
Ipad is much useful today than to you regular desktop and computer. why? because ipad is very handy and you can easily bring it out in any places and anytime. that's why having your own ipad music stand is a must as it was really useful not just for your music thingy but also if you need to search and type something for your work or for school. Actually, a lot of peeps are pretty pleased in getting themselves one of it hence you should get yourself too for your own convenient.
I am actually looking for the full piano keyboard to use for my recital in my music class. Actually, am planning to buy one even without the recital thing as I am too leased to learn it and be professional pianist, hopefully, soon. But I didn't know where could I buy it of course am looking for the best quality one and yet the price isn't that costly to have because I've heard that usual piano keyboard are quite expensive to have hence minimal of the musicians who consider it to have.. hence, I was looking for the cheap one, hopefully to have it soon..
Now is the time to start getting your FW outfits straight and checking out the trends for this season. Over the last few seasons we have seen sportswear just creeping in, but this FW it's going to be big. But what sort of sportswear is in and how should it be worn? Read on to find out?
Anoraks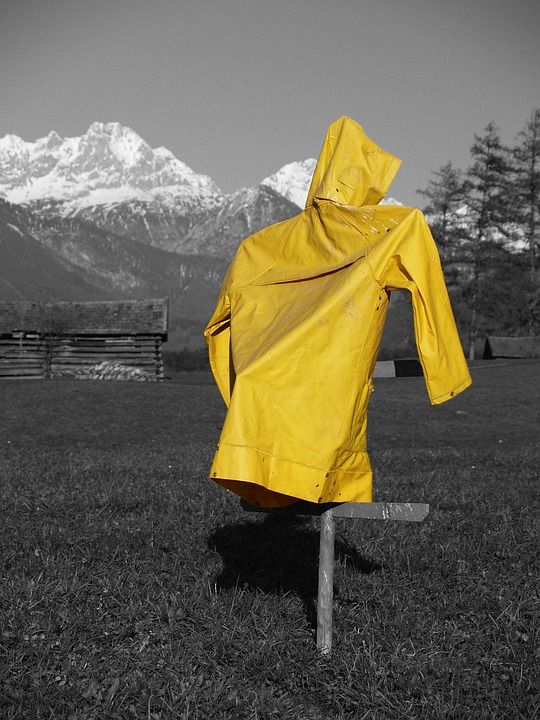 So first things first, only the fashion world could deem an anorak stylish and cause everyone to rush and a buy one. Ok, they are practical in a changeable climate. Also, they work well for actual sporting adventures, but their cred as a fashion statement is still a bit questionable. But Balenciaga seemed to have worked their magic on this unlikely style.
Be careful any old waterproof just won't do. We are talking 90's ski inspired here. Look for bold colors, get some neon if you can. Also to distinguish them from the normal run of the mill coats the designer varieties have been sporting couture cuts. So remember shape is everything!
Bomber jacket
Bomber jackets have already had some popularity this year in the fashion world, get prepared to see this carry over in FW 2016. Whether in satin or denim the bomber is a great casual look to throw on over jeans or legging. Wear with a longline tunic top to get the contrast in shapes. Finish off with a chunky heeled worker boot for an edgy on-trend look.
A bomber can also dress up an evening outfit too. Delicate lace version can look beautiful over a sleek fitted dress or crop top and pencil skirt combo. In fact, the bomber jacket is probably one of the most versatile looks in the sportswear trend 2016. You can wear them in nearly every color and fabric and still look amazing. Watch out for black, white or neons to be bang on trend for FW 2016.
Track Suits
Believe it or not, we are now seeing a resurgence in the popularity of those velour tracksuits that all the stars had i n the 90's! While they are super comfy for lounging around in, unless you have a new album coming out, you might want to avoid heading to the store in them. They give off mixed fashion messages, to say the least.
Shoes
Are those of you that are only ever seen out of doors in a heel, breaking out in a cold sweat over this sportswear trend? We'll don't worry because it's not all training shoes. Take a look around East Bay from some chunky work boots like the ones from Timberland. These will work well with the sportswear style, and you can even get Eastbay promo codes from the internet so you can get some money off your shop.
College Sweaters
A fun time to add to your FW wardrobe is a sports team sweater. These are usually made from thick wool, with a V-neck and team colors. Go for the super oversized look with leggings or skinny jeans. Perfect for long walks in the falling leaves. Or girl it up by combining with an extra long pencil skirt for an interesting shape.
Each year, millions of people get married. As you know, marriage is a lifelong commitment. It's something you should only do if you're both sure you wish to spend the rest of your lives together.
As couples prepare for their big day, they have lots of thoughts running through their minds. But, they seldom think about where this new chapter of their lives will take them.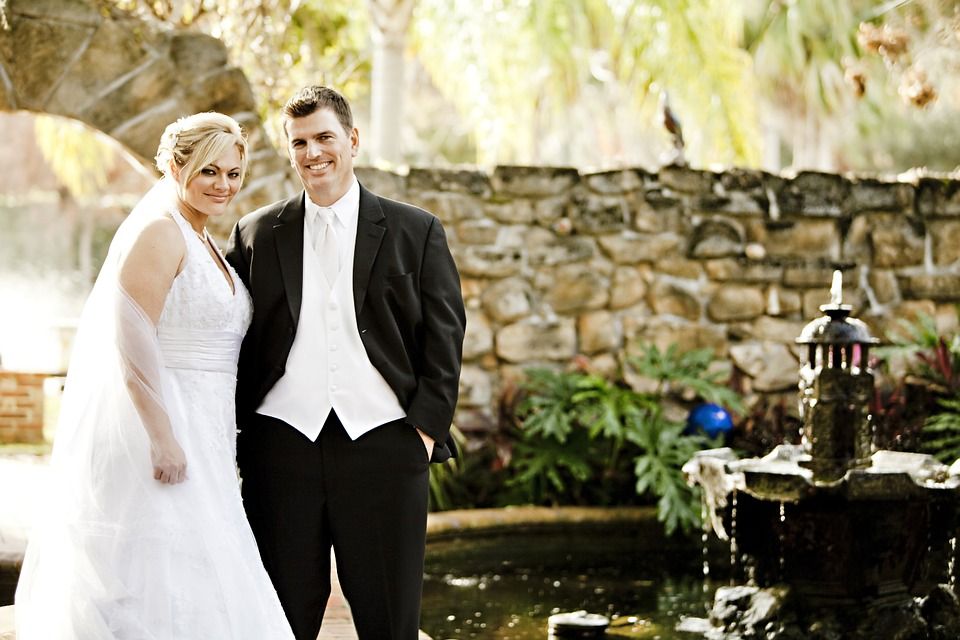 Now, I know what you're thinking. How can a single person know about the things they don't tell you about before getting married? Well, I've been to many a wedding over the years. And I've also observed how marriage affects those closest to me. With that in mind, here are some of the things they don't tell you about before getting married:
You have to learn to share
It's likely that those getting married will have spent some time living together. During that period, most people will have had to start sharing things. The trouble is; some folks are just terrible at sharing what they've got with others. That includes the people they want to marry!
When you spend the rest of your life with someone, your stuff is theirs and vice-versa. From cars to coffee cups. Expect everything that used to be yours to become part of a shared pool of possessions!
If you're not happy with that fact, you might have problems with your marriage before you even get wed! The good news is that the future marriage won't be doomed. Believe it or not, folks can seek advice from marriage counselors before tying the knot.
There is an array of marriage counseling services out there aimed at those about to get married. They can provide help and advice on many topics. One of them, of course, is learning to share with your significant other.
Marriage is a financial transaction
Thinking you can still keep your finance separate when you get married? Think again! Part of the whole deal of sharing stuff also includes the money side of things.
There are many reasons why marriage is also a financial transaction. First of all, you will need to share the cost of living together. I'm talking about expenses like food, your rent or mortgage, insurance and so forth. Other costs you'll likely incur together in the future will include things like childcare.
When one of you dies, the other will inherit your estate if any is available at the time. And if something happens to one of you, the other must cover your share of things.
You will have disagreements
Another thing they don't tell you before getting married is that you'll argue. Trust me; ALL couples have disagreements about stuff. Regardless of whether they get married or not! In fact, you're likely to argue more after you get married.
But, the positive thing to note is that disagreements are healthy for a relationship. It means you can work together to find a mutually acceptable middle ground. And you will both learn to communicate better with one another. Let's face it; life would be boring if you both agreed on everything!
Don't expect your spouse to change into a different person
The sad truth is that some of us assume getting married means we can mold our partners into different people. Let me tell you that is NEVER going to happen. You know the saying about leopards and spots?
If you have those thoughts about your spouse, chances are you shouldn't get married. If you marry someone, you should love them for who they are; warts and all! There's no such thing as the perfect partner. We all have our little faults and quirks.
Does your future life partner annoy you a lot in many ways? If so, you should perhaps reevaluate your relationship with them. Otherwise, you could end up with a failed and miserable marriage. Otherwise, learn to accept that your future spouse isn't perfect and get on with your life.
Everything changes when you have children
Last, but not least, there is one "gotcha" that catches out a lot of people. When you have kids, both your lives will change forever. You will now be responsible for one or more humans. They will depend on you every day until you die!
Still, that shouldn't be a bad thing. You can both still have fun like you used to before you had kids. Having children is not a prison sentence. It's a turning point in your life that you should celebrate.
Thanks for reading.
Every good boat owner knows the work involved with a vessel in good repair. A season's worth of wear and tear can quickly evolve into permanent and costly damage. When you want to ensure the longevity, beauty, and usefulness of your own boat, you may do well to shop online for a variety of items like supplies and replacement parts for boats that will let you do necessary upgrades and repairs. You can shop for these items quickly and easily by going online today.
Mechanical Parts
If you address damages and wear and tear quickly, you can avoid costlier repairs later on in your boat's life. Many of the parts that you need to make simple repairs are inexpensive and readily available. You can shop online for items like filters and batteries to use in your boat's engine, for example. These parts come with instructions on how to use and install them correctly. They also may carry a brand warrant that lets you replace them in case of manufacturer's defects.
You can also find gear like lights, screen, hatch covers, and more on the website. These smaller and seemingly inconsequential parts are actually important for the safe use of your boat. You need the lights, for example, for navigating the waters and also to provide light for walking on and below deck. You can get a full array of lights, covers, and more on the website.
Recreational and Miscellaneous Supplies
Along with shopping for essential components like engine parts, you can also shop on the website for recreational and miscellaneous supplies that will make sailing on the open waters more enjoyable. For example, you want your gear and furniture to stay safely on board while going through choppy waters. You can find cables, ropes, and more for sale that will let you tie down and secure chairs, communication equipment, and other gear that you need to keep on board.
You also may want to keep you and your passengers fed and hydrated during your sailing adventures. You can use the website to buy supplies like trail mix, water, and other nutritious snacks that will satisfy the appetites of you and your guests.
Responsible boat ownership requires that you ward off costly repairs if possible. You can shop on the Internet today for supplies like boat parts, snacks, cords, ropes, and more. These items ensure your enjoyment and safety while out on the water.
We all hate that dreaded moment when we open a cupboard and everything we've shoved in starts tumbling out. Or when we realise that buying more hangers won't actually create any more space in our overfilled closet. Whether it's a tonne of old books or clothes, or maybe old kids, there are always ways to declutter your home and make money as you go. Below are a few of my favourite ideas on how to banish the mess and make some cash along the way. Then once you've cleaned the clutter you can enjoy decorating your home with the latest trends to bring it up to date.
Photo source: Pexels
Selling Old Books and Kids Toys
Whether it's fiction, text books or rare books, there are probably a fair few piled up in your house. If they are taking away precious space you could use for something much more useful, why not sell them? There are a number of ways you can sell old books. If you have the ISBN number you can type it into websites such as sellbackyourbook.com and amazon.com and start making money from books you no longer need. If you have rare books or signed first editions, you can head to your local antique store for an estimate on price. Or head to websites such as baumanrarebooks and send through a list of the books you are keen to sell. Old kids toys are slightly different. If they are in good condition, you can try local online kids forums which often come up on social media. Or try a garage sale and keep everything cheap for a quick declutter. Even if you only make $100, it's worth an afternoon's work and will clear a big space in your house.
Photo source: Pexels
Selling Your Wedding Dress
Have you held on to your old wedding dress but never actually even looked at it again? If so, it may be time to sell it. Your memories are not in the dress. They are in the photographs and the feelings you have inside. Lots of people let go of their wedding dress with ease and can make a significant amount of money back. Use a wedding dress calculator to determine how much your dress is worth. This calculator just needs the name of the designer, the style number and the condition the dress is in. And then you can upload a couple of beautiful photos, detailed information and get selling.
Photo source: Pexels
Selling Designer Clothes And Shoes
We've all splurged on designer boots that are too high to walk in or a cute dress that just doesn't quite fit. And lots of us have a dozen cocktail dresses hiding at the back of the closet that haven't seen daylight in over a year. If you have designer clothes and shoes in a superior condition, you can sell them on websites such as Vestiaire Collective and HardlyEverWornIt. Bare in mind that luxury online boutiques can be very particular about what can be sold. So make sure your designer items are only very gently used and have no marks or tears. These types of sites work particularly well if you're a secret fashionista with a lot of designer threads to shed!
When you've been invited to a wedding, the thought of what to wear can leave you feeling a bit uncertain. There are certain 'rules' related to wedding outfits, and it can be a struggle to know if what you plan on wearing is acceptable and appropriate. Plus you have to think of an outfit that works for both the daytime ceremony and the evening reception party. It's all somewhat tricky! So as a wedding guest, what exactly do you wear?
Color
You might think that both black and white are off limits for a wedding. However, there are ways you can incorporate both shades. Modern wedding etiquette suggests you can wear white providing you don't look too 'bridal.' So all white outfits, especially those with lace or beading, are best avoided. But a dress with accents of white, or white pattern should be perfectly fine. A black dress can make a smart wedding choice, providing it doesn't look too much like funeral attire. So brighten up the outfit with accessories to make it more wedding appropriate. Pastel shades make a good choice, and since most weddings are held in summer, they work well for the season.
Style
It goes without saying that your clothing choices should be 'wedding appropriate'- so nothing that is too short, tight or low cut. If you're wearing something from your wardrobe that you haven't tried on in a while, don't leave it until the morning of the big day. It could have shrunk, or your body shape might have changed, making a once modest outfit into a very risque one. If you're not a fan of skirts or dresses, smart tailored trousers are also okay. You can still take your personal style into account so that you don't feel uncomfortable all day, providing you keep it smart of course. Any casual wear such as jeans or sportswear of any description is firmly out of bounds when it comes to weddings.
Shoes
Weddings tend to be long days. Chances are you'll be doing a lot of standing and maybe even dancing in the evening too after a few glasses of champagne! Heels will look more dressy, but comfort is also essential, so it's not the time to go for the highest ones you own. If you struggle to spend a day in heels, a pair of cushioned insoles may help. You might want to keep a pack of blister plasters in your handbag too, just in case.
Accessories
Your accessories can really transform an outfit from day to night. This is especially handy for occasions like weddings where there will be both daytime and evening celebrations. For the daytime ceremony you could wear a tailored jacket or shrug over your dress, and then take it off for the reception. You could bring a glamorous necklace in your handbag and put this on in the evening to dress up your outfit, and take it from day to night.
Makeup
Go for makeup you feel comfortable in, without going too heavy with it. When the ceremony is likely to be in the morning or early afternoon, very dark or excessive makeup isn't likely to be the most appropriate choice. So avoid things like dark smokey eyes, excessive false lashes, and very dark lips! Going for a fresh-faced look which accentuates your features is your best bet. You could always bring a darker lipstick with you, and apply that for the celebrations later on. This will instantly make you look ready for the evening.
Fascinators
Fascinators have been standard in British wedding attire for generations, but since the Royal Wedding, they have become a worldwide trend. Unless the bride has requested no fascinators or head wear, then it's perfectly acceptable to wear one if you like how they look. Just don't go for something too bold which could detract attention from the bride, and be sure to coordinate it with the rest of your outfit. Alternatively, you could choose a pretty hair accessory instead. Something like a flower or a diamante comb or clip would work well and add a subtle glamorous touch to your outfit.
There are a few things to take into consideration when dressing for a wedding, but providing you give it some thought you will be fine. Be sure to try everything on together before the day itself so you know your outfit works, and you're not left on the morning of the wedding in a stress about what to wear! Aim for smart and sophisticated and you're on the right track.
What do you wear when you attend a wedding? Have you ever unknowingly made a wedding fashion faux par?