Camiguin is a volcanic island province situated in the Bohol Sea and officially part of Northern Mindanao or Region X. Its name is definitely well-known—for sure you've heard a lot of "Thank you, Camiguin" jokes—but not many people can say that they've actually been there. In fact, despite its relative popularity, there are still considerably fewer tourists who visit Camiguin. 
This only means that if you're planning to book a Camiguin tour package, you can fully enjoy the destinations you visit. Be prepared to be amazed by these sights and experiences.
Sunken Cemetery
You can't go to Camiguin without visiting its most famous landmark: the Sunken Cemetery. Located in Barrio Bonbon, this historical and cultural site has been declared a National Cultural Treasure. It's also a sought-after dive site, since the old gravestones have already been covered by corals. There are also plenty of sea creatures that have settled into the stones and ruins.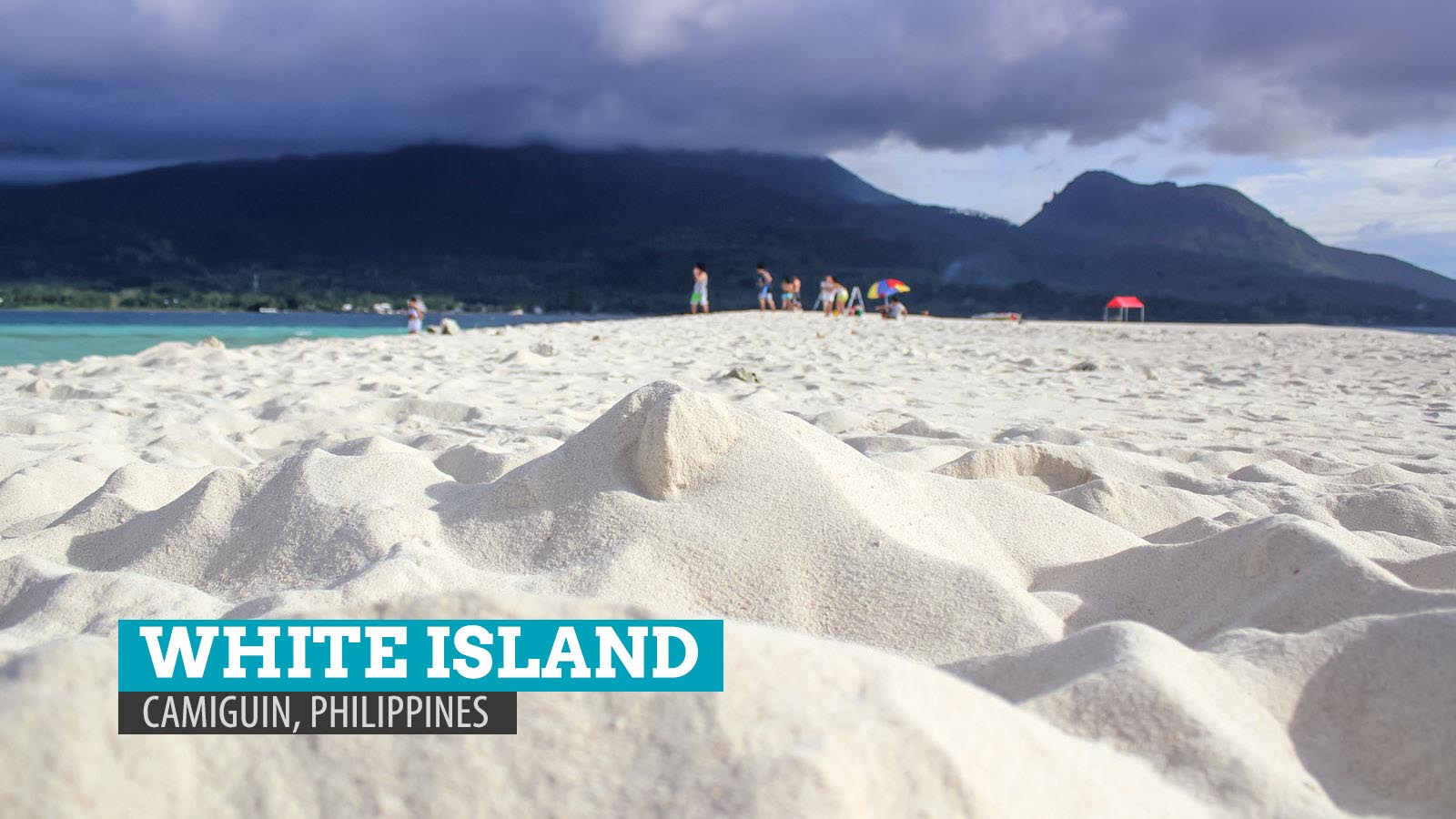 White Island
Another popular spot in Camiguin is White Island, which is actually only a small horseshoe-shaped sandbar situated north of Mambajao. It's perfect for sunbathing and swimming, as well as for taking gorgeous photos of the sky, sea, and sand. (#Instagrammable, for sure.) Depending on how strong the waves are, you might also see the island "changing" its shape. A word of caution: there are no trees or any other sort of shade on White Island. It's best to bring your own umbrella or hat, plenty of sunscreen, and a lot of water to drink if you're planning to stay long. 
Mantigue Island Nature Park
About 3 kilometers from the main island of Camiguin, you'll find Mantigue Island. It's home to the simple yet breathtaking Mantigue Island Nature Park, where you can explore the beach and the surrounding jungle. The park is a protected area, which helps keep its pristine condition. It also ensures that the animals that make their home in the jungle aren't hunted. Some of the most popular activities here include riding on glass-bottomed boats, allowing you to see the corals and fish without having to swim or snorkel. This is perfect for young kids who might be a little scared of the water. You can also catch some views of Camiguin Island and appreciate its beauty from afar.
Ardent Hot Springs
Want to relax and feel your stress float away? Take a dip in Arden Hot Springs, where the waters are heated by Mt. Hibok Hibok and nearby volcanoes. The sulfuric water is also said to have healing properties. Even without these health rumors, however, just sitting in a pool of warm water is already utterly relaxing. You can even try to sit under the waterfall to get your back and shoulders massaged for a bit. If you want a good night's sleep, visit the springs late in the afternoon or at night.
Sto. Nino Cold Springs
For those who prefer a cool bath over a hot one, Sto. Niño Cold Springs might the better destination. While the resort in the middle of the jungle is man-made, the cool water in the pool is all-natural and comes from the springs of Mt. Mambajao. The water passes through the mountain's multiple layers of minerals, which means it's naturally clean without the aid of chlorine or other chemicals. Sto. Niño Cold Springs is the perfect retreat in the middle of a hot day, before you continue with your Camiguin tour.
Tuasan Falls
If you already visited Sto. Niño Cold Springs, then you should definitely drop by Tuasan Falls. Simply ride a multicab or habal-habal and ask to be dropped off at the path leading to the falls. From there, the falls is only a short walk away. Once you get there, you'll be greeted by a gorgeous view of Tuasan Falls surrounded by big boulders and cliffs and framed by greenery. As a bonus, Tuasan Falls retains a serene and peaceful ambiance despite it being a popular tourist spot Camiguin. 
Katibawasan Falls
Another popular waterfall in Camiguin is Katibawasan Falls. Like Tuasan Falls, Katibawasan is easily accessible. Moreover, there's no need to hike to reach the destination. Once you come to the end of the winding dirt path, you'll immediately see 250-foot-high waterfall. Aside from swimming in the pool beneath the falls, you can also bring some food and have a picnic since there are tables and chairs provided nearby.
As you can see, Camiguin has a lot to offer. The sights and activities on this list, plus more you can discover, are sure to transform "Thank you, Camiguin" from a lighthearted joke into #VacationGoals.
Elegant V-Neck Ruffles Bridesmaid Dress
Are you planning to have your own wedding ceremony soon? and are you on lookout for a best and yet affordable gowns to use for the entire wedding? if so, you are lucky enough to had found this post here wherein I will sharing with you this one shop here called BM Bridal where all the kind of bridesmaid and bridal gowns were houses and even to selling out for a very affordable prices. In fact, a lot of us fashion bloggers are too pleased and keen to have a gowns to them as mostly of their designs here are on trend and the materials that they has uses are indeed in quality and yet they weren't selling them for a high price tags. You may check the shop yourself and see on how awesome and convenient to shop to them, when it comes to bridal gowns and casual dresses.
Ruffles Sleeveless Long Bridesmaid Dress
Furthermore, don't look for any shops online today because you couldn't find any that has the most competitive pricing list besides to BM Bridal and yet the quality of the gowns aren't in stake or compromised at all. Actually, they has the most Affordable Bridesmaid Dresses set selling today base on the data. Hence, no doubt why a lot of people were talking about them and even recommending them with their friends once they needed a fine gowns for any occasions. Yes! you heard it right that this shop also sells some casual and even formal wears that could make you the head turner of the night as mostly of their gowns are designs and made on what in trend for a season.
Spaghetti Straps Long Bridesmaid Dress
Also, this shop is often on sale and you can even score a fine gown for below an 100 USD that includes the shipping fee and tax duties. Just go on to their sale page for the list of gowns that are currently on a discounts.