Whether you want to swap from pixie cut to flowing locks for the weekend or try out a new colour for a night out, it's all so much easier now with the abundance on extensions, wigs and weaves available. Popular with celebrities and on social media, fake hair is the perfect way to experiment with different looks without damaging your own hair.
Read through our user guide for information on the different types, and how to keep them looking their best.
Extensions
When choosing extensions, try to select a colour that matches your shade and the best quality you can afford. Try mixing shades to create natural highlights, but test them out on daylight to make sure they match correctly. Always go for real hair over synthetic, as it is a much higher quality and can be styled with the rest of your hair. While you can get some excellent looking synthetic extensions nowadays, you can't use heat styling tools on them or dye them.
There are different types of extensions:
Clip Ins
These are a great temporary fix and can be fitted yourself. They're ideal if you want to thicken your hair, giving it a bit more volume and shape. Backcomb your hair before fitting, and clip in as close to the roots as you can. Be careful that you don't leave these in for too long, or repeatedly attach them to the same hair, as they can damage and weaken your locks.
As they are not meant to be worn permanently, they will need washing regularly. Shampoo and condition as with normal hair, and leave to dry naturally. Use a soft bristle brush on them, and apply some hair oil if they look a bit dull.
Fitted Hair
You can get extensions fitted more permanently at the salon, as an alternative to clip ins. These are applied either in small sections with glue, or in strips of tape. They are much longer lasting, but also more cost effective. But, if you want to wear extensions all the time, then these are a lot less damaging than clip ins.
These can be cared for as your normal hair, but try to avoid using too much heat on them. When you want them taken out, make sure you head back to the salon rather than attempting it yourself.
Wig
A full hairpiece is ideal for those wanting a complete hair change, or people with no hair themselves. There are pieces available in every colour and style you can imagine, all varying in cost depending on the expertise and quality. A lace wig is the best for an authentic look, as it gives you a natural hairline and allows the hair to be parted and fall in different ways. It is fixed using glue which can be removed using oil at night. If you want a wig due to hair loss, try a monofilament cap. They're difficult to point out, as they allow your scalp to show through, and don't require any adhesive.
A synthetic wig doesn't need to be washed, but real hair does need maintenance. Try not to wash it too often, and when you do, use The Wigmate Wig Stand to allow it to dry thoroughly.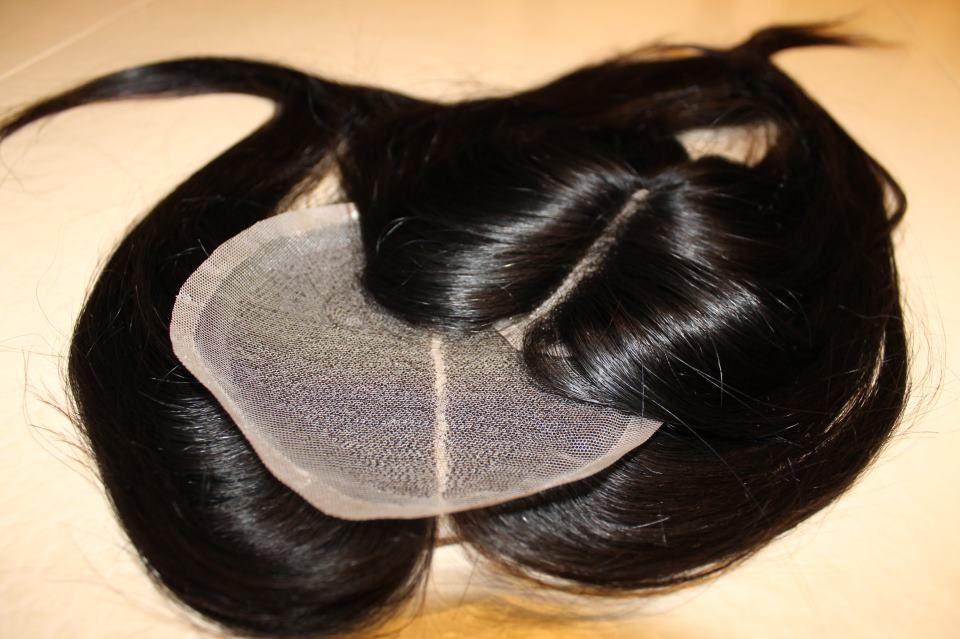 Weave
A sew-in weave can allow you to change your hair colour, length, and style with very little effort. A stylist will braid your hair into intricate rows, using thread to strengthen. The new hair is then woven into these cornrows, giving you a natural and realistic head of hair. A layer of your hair is normally left around the parting and hairline to hide any braids, allowing you to style it any way you like. This is normally a good option for people wanting to grow their own hair out, or allow damaged hair to recover. While the braiding can take a few hours, it will last for up to 12 weeks and can be easily changed and adapted.
Make sure you get your hair trimmed and well conditioned before it is braided. The weave should be washed and cared for regularly, but be careful when massaging the scalp. Take care of the new hair, and avoid too much heat to keep it healthy. Avoid processing your own hair that is left around the hairline as well, as this can easily become damaged.
All of these are great ways of experimenting with your hair, in fun and different styles. Just be aware that your own natural hair needs to be cared for, and too much processing and styling can damage it. Give it breaks in between treatments, and regularly visit the salon for check-ups rather than trying to do it yourself.