There are some cities that you really have to get in among to truly experience them. Those cities that are like little rabbit warrens of winding streets and side avenues. Other cities are more "cityscape" cities. You know the type – they are places that you'll see in wide-frame photos encapsulating the skyline, usually at night. Into the latter category fall places like Dubai, Shanghai and of course NY.
There is a reason cities will fall into one of these two categories, and it usually has to do with a city being a financial center. Those prior three mentioned all have this in common. Space is at a premium, and when we run out of it at ground level, we build UP. That's why we get skyscrapers, and skyscrapers make cityscapes. And nowhere is this more ably demonstrated than in New York.
Getting Into An Empire State Of Mind?
This is one of the things that makes The City That Never Sleeps exciting for a tourist. Simultaneously, it also makes it a little intimidating. When you visit New York for the first time, bring a neck pillow, because you spend a lot of time looking up. Usually while saying "Wow! You don't really get how big it is on TV!". But you don't want to be THAT tourist, so it's worth thinking of some ways you can even up the score with this most beguiling of cities.
Don't Try To See Everything In One Trip
New York is one of the world's most populous cities, and the most populated in America. So there is going to be a lot to do and see here. On one visit to New York, it's easy for your eyes to get bigger than your belly. You will want to see everything.
The Brooklyn Bridge – driven over by your favorite TV show characters, probably
It makes sense to narrow that down to some real specifics. Are you a TV buff? Pick some locations that mean something to you from Sex And The City, Gossip Girl or Mad Men. A foodie? Pick some restaurants that reflect your tastes (there will be some in New York, whatever your preference!).
Don't Look Up – Look Down On NYC!
Sacrilege, I know, but a city that has been celebrated on screen and in song so often can handle it. Instead of walking around with your neck craned to check out the sights, see it from the sky. Take an NYC helicopter tour and see the Brooklyn Bridge, Ellis Island and other sights from above. This way, you'll avoid the common condition "Tourist's Neck"!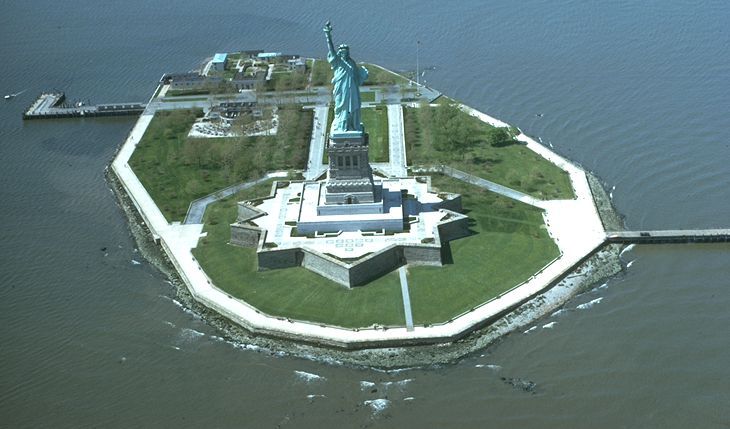 Not so big now, are you, Lady Liberty?
Don't Act Like A Tourist
It sounds elitist, but bear with it. If you go to New York, of course you are a tourist, and without you the city would be a lot poorer. However, the more you act like a tourist, the more you will be treated like one. And New York is a busy city, as Frank Sinatra mentioned. If you mill around sidewalks taking photos and getting in people's way, they will not be shy about letting you know.
Selfie in Central Park = Good. Selfie In Grand Central Station = Bad
Cab drivers will charge you "tourist fares". And by trying to tick off all the major landmarks you'll miss some of the lesser-known spots that you'd actually love. Because New York is home to so many people, and therefore is a treasure trove for people just like you. How do we know? Because with nearly 20 million inhabitants, it statistically must be home to some people just like you.
Follow the tips above and your first trip to New York will be everything you hoped it would be – that's a promise.