Fish and chips, rainy days and Ant and Dec. There are loads of reasons to be a proud Brit! But what about when you fancy escaping for a little white? Whether you're looking for more sun, a different culture or some new foods, here are some suggestions for weekend breaks.
Normandy, France
The great thing about visiting France from the UK is that you can go by boat. Ferry, to be specific. Plus, there are direct ferries to take you straight to Normandy, leaving from both Poole and Portsmouth.
Normandy is a region known well for its beautiful coastline and beaches. Take a day trip to Mont-St-Michel; you'll be forgiven for thinking it's a magical castle as you approach.
Villas are ideal for weekend breaks, as they give privacy while still being in good locations. Choose one that is decorated in typical french style for an authentic experience. Villas also mean you can be self-catered, so all the local produce and food can be enjoyed in full. Stock up on fresh bread, cheeses and meats, and don't forget wine from a local vineyard.
Get there by… ferry
Treviso, Italy
On the outskirts of busy Venice, you'll find her quieter, calmer sister. Just as beautiful, Treviso is an Italian town often overlooked in favour of her sibling. This is partially a shame; she is not as widely adored and appreciated. However, this is part of her charm. The town is as yet not overrun by tourists and their selfie sticks. Instead, the town is peaceful, though with all the same culture and charisma. There is a grand square with restaurants dotted around the piazza. Plus there are weekly market stalls alongside mainstream shops. Water runs through the town too, but in wider rivers and streams that you'll usually find in Venice. That being said, there is less to do here, so if you go for a long weekend, you might want to consider two days in Treviso and one in Venice. The train is around 30 minutes and cheap as chips. You'll love Venice, for sure, but chances are, it will be Treviso who steals your heart. Flights take around two hours from London Stansted.
Get there by… plane.
Edinburgh, Scotland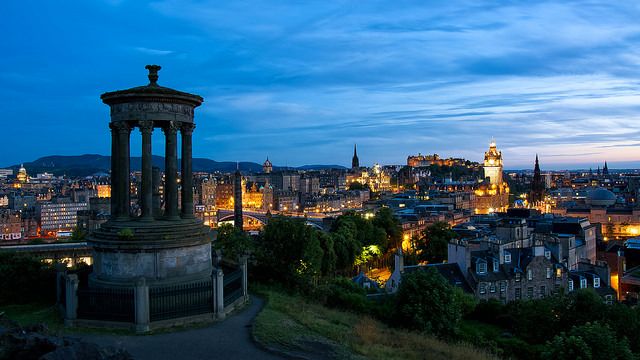 If the train is your preferred way to travel, Edinburgh is the weekend break destination for you. If you're travelling from London, you can be on and off the train in under 6 hours. This time is halved if you start your journey up North. If you go in August, you'll catch the incredible Edinburgh Festival. This is month-long arts festival that draws in the crowds and incredible acts in vast numbers. For a romantic break, head up Arthur's Seat for incredible views. Don't forget your walking shoes; it's a bit of a climb! Then head back down onto the bustling Princes Street for a date-night dinner. While the distance is do-able for a weekend break, the amount of things on offer won't be! You'll be planning your trip back before you know it.
Get there by… train.